Meet Rajiv Chilaka, The Hyderabadi Who Gave The Indian Animation Industry A New Milestone!
Who doesn't know Chhota Bheem, right? A massive success in terms of Indian cartoon arena; he became the first animated superhero for the children of India. And a moment of pride for all of us is the fact that the creator of this success, Rajiv Chilaka, is a Hyderabadi! Despite moving to the United States for further studies, he found his true calling in animation and made sure he contributed to India with his skill.
Here are some facts about Rajiv Chilaka and Chhota Bheem that you need to know!
1. Rajiv Chilaka Studied telecommunications Osmania University, pursued MS in Kansas City and worked as a software engineer before quitting and pursuing his passion that is animation.
Source: The Hindu
2. He began the company Green Gold while still in the states but established its headquarters to be in Hyderabad with the help of four friends. The company now has 250 people working for it.
Source: Real Dreams
3. His most successful creation, Chhota Bheem was conceptualized in 2003 but faced 5 years of rejection before getting aired in April of 2008.
Source: Wikipedia
4. Chhota Bheem has made a successful 312 episodes and 22 television movies and has claimed its position as the best children's show in India.
Source: Deccan Chronicle
5. His Chhota Bheem is the first Indian home-grown TV series to be made into a feature film.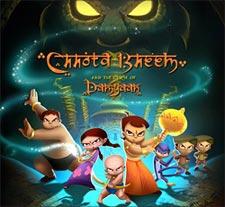 Source: Rediff
6. His company Green Gold Animation is currently the largest animation production company in India that caters primarily to children. Their viewership is an incredible 34 million children.
Source: Youtube
7. His creation, Chhota Bheem went on to become the 1st ever Indian animation character to have its own line of branded merchandise and exclusive stores.
Source: Telegraph India
Who knew Chhota Bheem, whom we only knew as a cartoon character that kids love, was actually pretty revolutionary in the Indian Animation Industry!?
What's even better… It was the brainchild of our very own Hyderabadi!

If you wish to contribute, mail us at admin@chaibisket.com
Up next on Chai Bisket
Tyagaraja's 7 Facts That Will Make You Realise What A Legendary Composer He Was!
comments
Tags:
cartoons
,
chota bheem
,
chota bheem cartoon
,
hyderabad
,
rajiv chilaka