How Many Of These Crafts From Our Telugu Land Do You Know?
You know who we, Bisketeers hate?  We hate those pretentious lavish people who buy imported decorative collectibles for a fortune and act like they know art & craft. Not judging (actually we are) but we like to believe that expensive isn't the same as artful. While we are at it, we realized how much we miss out on the wonders of our backyard while searching for what is foreign. Soooo we set out to be the single-handed saviours of indigenous crafts of the sister states. And how we intend to do it? By doing what we do best… write about them! Read on and be enlightened!

1. Kondapalli Bommalu: One of our personal favourites, these are wood carved, organic painted dolls that are handcrafted in Kondapalli. This 400 year-old traditional art form is in dire need of patronage while the Kondapalli artisans stick staunchly to their art and revere it as God.




2. Kalamkari: These fabric prints are basically hand-painted or block-printing on fabric… Ok, who are we kidding! Most of you already have heard about this one. If you haven't then I'm sorry about you. By the way this one's been evolving for over 3000 years and is now famed to be produced from Srikalahasthi and Machilipatnam of Andhra Pradesh.




3. Bidri: Nurtured to its best during the Nizams, Bidri is oxidizing metallic artwork on as decorative pieces or tableware. Hyderabad is one of the very few places in the world that actively sells this artwork. Just look at that majestic piece of creativity.




4. Durry: Over 500 artisans in Warangal and its surroundings are involved in artistically creating an attractive assortment of decorative Durries. Durries are artistic rugs that are used as carpets. Lesser known but pretty damn useful!




5. Budithi: Located in Srikakulam District, Budithi is a small town that makes these really cute and artsy shapes out of alloys, mostly with brass. The art form expresses itself as traditional cooking utensils and also in forms that suit contemporary needs.




6. Dokra: Made meticulously by hand, these metal artworks are such that no two pieces are alike. Figurines, horses, drummers, peculiar shaped spoons and hauntingly original tribal Gods can be seen in Dokra. They are primarily made in Chittalbori and Ushegaon in Adilabad District.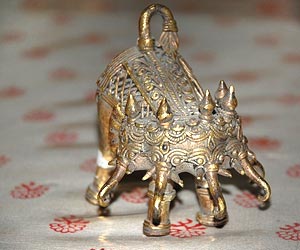 7. Silver Filigree: Silver filigree, or intricate carvings made of fine silver wire twisted into artistic forms , are actually an ancient art form that flourishes in Karimnagar. This is a craft carried down for ages amongst the traditional artisans and takes hours of patience for attaining the perfection.




8. Banjara Needle Crafts: Coming from the Gypsies of India, the Lambadis, Banjara Needle Craft are indeed a feast for the eyes. Their mirror work embroideries can pretty much constitute high fashion if worn right!




9. Leather Lamp Shade: This one originated from the art of making leather puppets which is more fondly known as "Tholu Bommalata". The medium of expression has changed  since 3rd century (yep, this form is that old) but the art still thrives in Andhra Pradesh and Telangana.




10. Cherial Scroll Paintings: These are originally from Cheriyal village of the Telangana region and in the current day are only produced in Hyderabad. Scroll Paintings are basically like our comic strip that tells an entire story in pictures.




11. Bobbili Veena: Also known as the Saraswati Veena and made out of Jackfruit wood, it's basically the kind of instrument that the elite musicians would want to own. It's probably time to make playing the Veena a thing. Enough of guitars, yes?




12. Udayagiri Wood Carving: Although a lot of areas of Andhra Pradesh and Telangana  are acquainted with the art, Udayagiri of the Nellore District has a special place in the clique. Intricate, delicate and beautiful, these wood carvings are something any collector would want to possess.




13. Nirmal: Named after its place of origin Nirmal of Adilabad District, Nirmal Paintings and toys are renowned around the world.  Nirmal Arts are known to have a huge range of expressions, themes and motifs that can range from dark royal hues to vibrant flora.




Phew! That was one hell of a ride around the states and history! It is weird that we don't realize how rich we are in terms of art and look everywhere except home.

Anyway, if this piece led to at least one purchase, making at least one artisan happy, we will assume this article to be a huge hit!

If you wish to contribute, mail us at admin@chaibisket.com
Up next on Chai Bisket
This Hyderabadi Hip-Hopper's Trippy Beats Surely Demand Your Attention!
comments
Tags:
Andhra Pradesh Crafts
,
Banjara Needle Crafts
,
Bidri
,
handicrafts
,
kalamkari
,
kondapalli bommalu
,
Leather lamp shade
,
Silver Filigree
,
Telangana Crafts