Meet Sabbineni Meghana, the Telugu Ammayi Who Rocked With Her Maiden Half-Century
Sabbhineni Meghana, a Hyderabadi young girl who is now representing our country in the Women's World Cup 2022 in New Zealand and is making us all extremely proud. While women's cricket team and the women's cricket players get a little less recognition in our country, here she is. An opening batsman with an extremely appreciable sports life and a story worth knowing.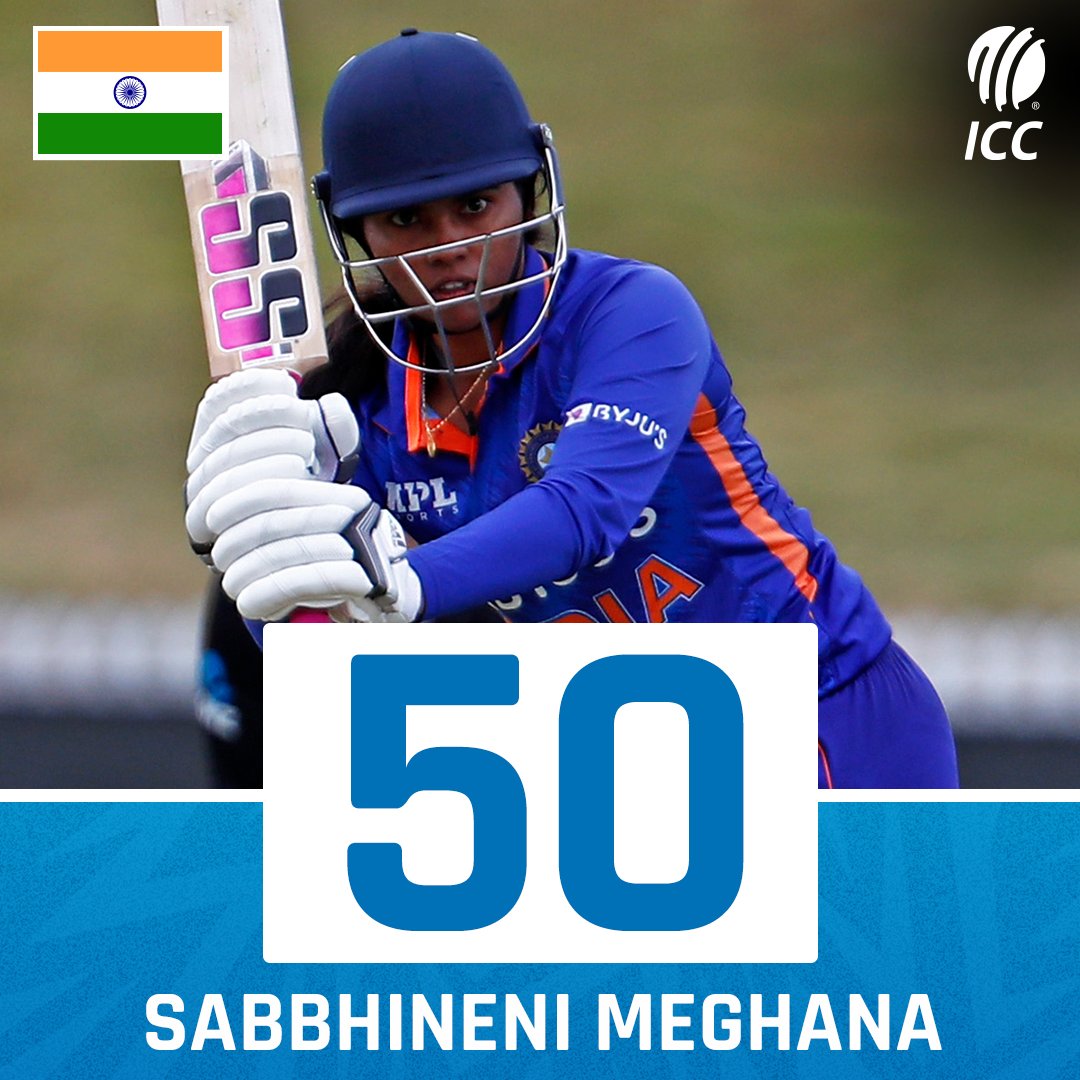 The 25-year-old Meghana was born in Krishna district in Andhra Pradesh, brought up in Hyderabad. She was always been very interested in sports. First lo swimming, skating inka badminton aaduthu, skating tho national level lo participate chesindhi. Kaani ee sports ki adequate facilities inka training available lekapovadam tho, cricket aadadam start chesindhi.
How it all started
Hyderabad lo unna DAV Public school lo chadive tappudu, seventh class lo akkada unna summer camp lo join aiyyaru. Aa camp lo cricket coaching available undedhi, kaani aa coach ki under gaa only boys training tiskone vaaru. She was the first girl to play the school not only in her school but also in the whole town.
Ala tana cricketing journey start aindhi. Then she joined a cricket academy in Vijayawada where girls also played. Srinivas Reddy was her first coach. Tarvata former cricket player, Purnima Rao deggara coaching tisukovadam start chesaru. Meghana tana deggara chala nerchukundhi. Prati okkariki individual gaa attention ichi, baaga support chesaru.
Amma nanna and valla support
Her parents have been extremely supportive of her career choice since her childhood. Meghana valla nanna ki kuda cricket midha ishtam undadam tho, tanaki kuda aa sport nachindhi. Her mother was literally like her backbone. Tanu morning 3:30 ki lechi, Meghana ni 4 ki lepi, 4:30 ki Ibrahimpatnam velle bus ekki, 6 lopu Indhra Gandhi Municipal Stadium ki practice kosam reach aiyye vaaru.
Her growth in the game
Second season loone domestic circuit lo highest run getter gaa stand up aindhi, Meghana. Because of this, she got selected for Andhra's U-19 state cricket team in the playing 11. And with this, she also got selected to play in the senior state side against Australia.
Education
While her cricketing career was on a roll, she did not leave back her education. Eighth class daaka school regular gaa attend aiyyaru, kaani state teams ki select aiyyi travel cheyyadam start chesina tarvata, school chala takkuva attend aiyyevaru. But in the tenth standard, she studied for only two months and scored 530/600.
She opted for science and completed her graduation in B.Sc. academically baaga perform cheyyadam tho, family members inka baaga chadivi, academic lo tana career establish cheskomani suggest chesaru. But, tana coach Purnima Rao ki Meghana midha chala undadam tho, tane Meghana valla parents ni cricket continue cheyinchamani convince chesaru.
Debut in the Indian Cricket Team
U-19, seniors tho U-23 aade time lo, two-consecutive seasons lo top run-getter gaa stand out aindhi. 2015 lo ZCA camo lo select aiyyi, akkada second leading run getter aiyyaru. Dinitho tana name Indian team ki push cheyyadam jarigindhi. She did not expect to be selected at all. Mumbai lo match aipogaane, valla nanna ee news tanaki chepparu. She was totally taken by surprise.
Indian Railways
Her performances in the international matches did not stand out but that led her to the Indian Railways. First south-central railways lo talent quota through select aiyyi, same year Indian Railways team lo selected aiyyaru. She has had a great journey. She was the leading run-getter in the senior women's one-day tournament and Challenger Trophy.
She stands to be the first woman from our state to represent the country. And this year, she was selected as an extra in the women's squad but went on to bat today in the absence of Smriti Mandhana as an opener. She scored a 50 and gave an exemplary performance.
Sabbhineni Meghana is off to a fierce start as she gets a maiden 5️⃣0️⃣ in 33 balls#NZvIND #LiveCricketOnPrime pic.twitter.com/XsvSl12lQ2

— amazon prime video IN (@PrimeVideoIN) February 17, 2022
If you wish to contribute, mail us at admin@chaibisket.com
Up next on Chai Bisket
Mommy Superstar! Things You'll Relate To When Your Mom Falls Sick
Up next on Chai Bisket
IPL Vaari Paata: Memes That Sum Up Today's IPL Mega Auction 2022 Day 1 Highlights.
comments
Tags:
andhra cricket association
,
cricket
,
hyderabad cricket association
,
International cricket
,
women cricket
,
womens cricket team