18 Instagram-Worthy Food Places In Vijayawada To Visit With Great Ambience
Hello food lovers!! Foooood taste bagunte chalu elanti place ayina vellipotham. Kaani apudappudu kalise friends batch okati untundi, year lo okasari get together party chesukune school batch inkoti untundi, ivani parla family gatherings lantivi jarigetapudu matram chudadaniki bagunde place ni erikori opt chesukuntam. Mari mana vijayawada lo food tho paatu ambience lo the best anukune places chala ne unnayi. Anni cover chedham randi..
PS: Ippude article save cheskuni every weekend oka new place cover cheseyandi.
90's cafe and restaurant:
Starters, starters and more starters!! Heaven for non veg lovers!! Woods all over, beautiful ambience and pleasant outdoors. What more do you want for a perfect outing? Night time inka thop untadhi.
Where: Near Novotel service road, Bharathi Nagar, Vijayawada.
Orka cafe:
Thinking of a diet plan? People who want to start a diet plan, here's orka cafe helps you to customise your meal with healthy ingredients. You can also keep a count of calories intake. Healthy yet Tasty. Such a cute little place.
Where: Plot No.5, Gurunanak Colony, Vijayawada.
E3 Drive in:
Vijayawada vallaki dhaba ante mangalagiri vellalsindhe. Ippudu chakkaga Bus stand daggaraki vachesindi. Sholay Dhaba. The main attraction is those 'SHOLAY' posters all over. Drive in kabatti Vachi tinipo, punjab thadka, dosa point chala unnai. Inka akkada pictures ki perfect… chuttu trees, lighting, venakale ghat view kuda baguntundi.
Where: E3 drive in, Opposite APSRTC Bus stand, Vijayawada.
The Cambre House:
Appatlo vellani vaallu leru. Lockdown ki mundhe chala mandhi cover chesesi untaru. Still this is one of the fine dining place with the best ambience and rustic decors.
Note: Food kante ambience ye baguntundi anta. Just eppati nundo nadusthuna talku.
Where: RTC Colony, Benz Circle, Vijayawada.
Kava cafe:
Just before the lockdown.. Instagram lo andari posts ive. Place alantidhi mari manam em chestham. Oka side kava cafe, inko side Rusted spoon madyalo Bread box. Perfect for anni rakala food and Instagram grid.
Where: Moghalrajpuram, Labbipet, Vijayawada.
Blind Chemistry:
Want good pictures and good food? Then late cheyakunda vellipondi. Eppatinundo undi kaani veldham le ikkade ga anukunaru kadha. Go re.. you'll enjoy it for sure. Okay don't miss that chocolate pani puri.
Where: Near DV Manor, Tikkle road, Vijayawada.
9 kitchen:
Very recent hangout place in Vijayawada. Pleasant ambience, open garden dining, with screening movies..Okay another best thing is food especially Chicken cooker pulao.
Where: Beside NAC Kalyana Vedika, Guru Nanak Colony, Vijayawada.
Verandah coffee roasters:
Verandah will definitely become your go to place. You can just enjoy the coffee date vibes.
Where: Gurunanak Colony, Vijayawada.
Puri Vurii:
Oka sayantrapu addiction. Bandi pani puri is love lendi but okati unte okati undavu kabatti.. Visit this place and thank us later. Puri Vurii has a wide range of chaats along with main courses. Pictures ki kuda cute and colourful place.
Where: Tikkle Road, Sidhartha Nagar, Vijayawada.
Le story:
Personally, my most favourite place. Side lo grass and stones tho unde walkable area, indoors with cute wall paintings, outdoors with net chairs and lightings all over abba perfect place. You can also have small birthday parties and 'bride to be' functions there.
Where: Rd Number 1, NTR Colony, Vijayawada.
Brew Buzz:
Brew Buzz is just a complete package any day. Spending an evening, having some cool pictures, yummy starters and mouth watering desserts. Also this place has an outside smoking zone.
Where: Opp LEPL Project office, Vijayawada.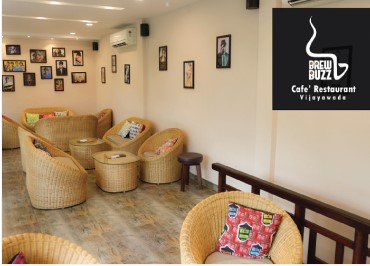 Lotus the food city:
Any time photo time. Huge place, backside Prakasam barrage kanipisthu, appatlo DSLR tesukelli enni pictures digamo lekke ledhu. Eppatiki the best weekend place to hangout with family as well as friends. Mostly parties ekuva jaruguthuntai.
Where: Near Prakasam Barrage, Vijayawada.
13. Barista:
It's okay. Nalane chala mandhi enti Barista na? Vijayawada lo na? anukuntaru. Yup, this legendary barista has a bunch of Italian dishes.. Mouth watering pancakes, pizza, waffles. Also this is one of the best places for work space.
Where: Imperial VSN Mall, Gayatri Nagar, Vijayawada.
14. Monk's kitchen:
When in doubt, visit Monk's kitchen. I just love their interiors, the book shelves and the long ropes.
Where: Beside Med Plus, Guru Nanak Colony, Vijayawada.
15. Taco bell:
Separate ga vellamani cheppanu kaani.. Just PVP mall ki vellinappudu visit cheyyandi.
Where: PVP Square Mall, 3rd Floor, Labbipet, Vijayawada.
16. Food republic:
This place gives you some vintage vibes. Best ambience as well as the best biryani. Those evening lightings, cozy semi open space, separate rooms, suitable for families as well as friends. Potlam biryani is lub mama.
Where: Near Mural Fortune park, Siddhartha Nagar, Vijayawada.
17. Nicoli Pasticceria:
A place to eat and play. Perfect work space with super cool ambience. Never ever miss desserts here.
Where: Opp A Convention, Labbipet, Vijayawada.
18. Trippy Tree cafe:
Hola!! Here is a goan themed restaurant in vijayawada. This cafe has both indoor and outdoor seating. Indoors filled with beds, board games and a music band. Outdoor seating with a semi open place and beautiful walls. Also this place is pet friendly too.
Where: Road No.4, Bharathi Nagar, Vijayawada.
Inkendhuku late instagram feed kala kala lade time vachesindi. Hope anni cover chesa ane anukuntunna. Miss aythe let us know in the comment section. Share this article to your 'pics ante pichi unna prend'.
If you wish to contribute, mail us at admin@chaibisket.com
Up next on Chai Bisket
Things You Will Relate To If You Love Dogs But Your Parents Didn't Allow You To Get One
comments
Tags:
best ambience food places
,
best ambience in vijayawada
,
cafes in vijayawada
,
food places in vijayawada
,
great ambience places in vijayawada
,
instagram photo food places in vijayawada
,
instagram worthy places in vijayawada
,
restaurants in vijayawada
,
vijayawada food
,
vijayawada food places