Looking Back At The OG Style Icon Venky Mama & Unique Styling Through Out His Vintage Movies
1986 nundi recent salt pepper look varaku oka three generations ki fashion icon ante adhi Venky Maama ne. Mari chinnappati nundi styling ante antha pichi mana Venkatesh gaariki. "Evadu veskoni jeans veskovali ani and I remember when jeans first came to India I'm one of the first guys got something from Singapore" – VENKATESH. Konni movies ki kuda tana own styling ye cheskunaru ante inkem cheptham cheppandi.
I swear chala ante chala takkuva mandhiki beard lekunda only mustache suit avthundi. Andhulo number one Victory Venkatesh. Classic looks of venky mama vi anni mustache tho ne untai. For example gharshana, why always oora mass? Can I say oora class!!
Pilli gaddam maalum tereko? Gray mass look beard maalum tereko? Always Ilanti unique looks venky mama ne ribbon cut chestaru. 
Overcoats/sweatshirts/Jackets:
Monochrome ante single color anamata. Outfit motham single color. Inka obviously white and white, black and black lo aripinchesaru appatlo ne. 
Ippudu amayilu andaru vese three layered chains appatlo ne venky mama trend set chesaru. Obviously chains unisex kabatti 3,4 gold chains and silver chains tho picha cool ga pulloff chesevaru. 
Have to mention andi. Asalu evaru dare chestaru chepppandi. Malleswari movie lo Gundello Gulabi la song lo poola chokka and shorts and Chintakayala Ravi lo interview ki vache scene emaina guts andi.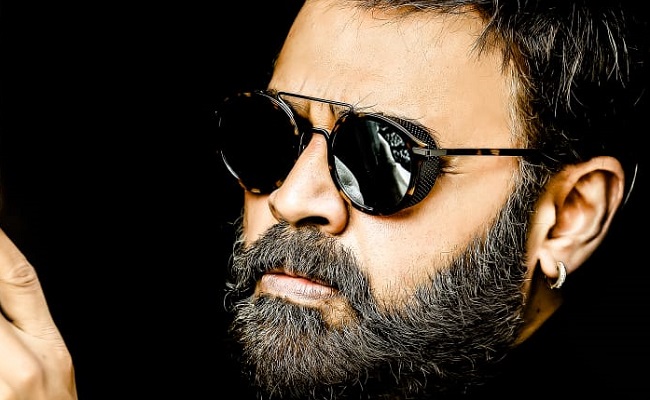 Meeru observe cheste venky mama mostly t-shirt and checks shirt simple and class. Inka watch and glasses kuda mandatory andoi. 
Ee styling lo watches, goggles, shoes ilanti unique collection kuda unnai andoi . Ye maata ki ah maata Venkatesh in Vasu movie is whole mood. Mari mee favorite styling of venky mama ento comments lo cheppeyandi.
Happy Birthday Victory Venkatesh Garu!
If you wish to contribute, mail us at admin@chaibisket.com
Up next on Chai Bisket
Meet 21-Year-Old Harnaaz Sandhu From India Who Is Crowned Miss Universe After 21 Years
comments
Tags:
Venkatesh in vintage look
,
Venkatesh outfits
,
Venkatesh styling
,
Venkatesh styling in movies
,
Venky mama style