Saved Life On A Flight: Meet The Telangana Governor who Saved Life Of DGP-Rank IPS Officer On A Flight
A doctor is never on an off day. Akhariki career path change chesina.. evari life aina problem lo untey, elanti situation lo aina first ville mundhuki vastharu. Eroju manam alanti oka life-saving situation gurinchi chaduvadam.
Telangana Governor Dr. Tamilsai Soundarajan gaaru Varanasi nunchi Hyderabad via Delhi vache flight on air lo unnapudu, Indigo flight crew members emergency SOS announcement icharu. Flight lo oka passenger ki breathlessness, sweating inka uneasy feeling gurinchi complain chesaru.
Uneasiness gurinchi complain chesina passenger Mr. K T Ujela, 1994 batch additional DGP-rank IPS officer. Flight lo unna governor Tamilsai gaaru quick gaa announcement ki respond aiyyi, treatment ivvadaniki vacharu.
Tamilsai gaaru, politics lo join avvakanna munchi oka qualified doctor inka practicing gynaecologist. Tana doctor instinct inka quick response tho, aa passenger vitals check chesi, first aid inka medicine provide chesaru.
Vitals check chesaka, munduki bend aiyyi relax avvamani chepparu, Tamilsai gaaru. Daanitho atani breathing stabilise aiyyi flight land aiyye lopu better feel aiyyaru. Land avvagane emergency hospital ki tiskellaru.
He is currently undergoing treatment as he got diagnosed with dengue fever. He said that "Madam Governor saved my life. She helped me like a mother. Otherwise, I could not have made it to the hospital. She gave me a new life"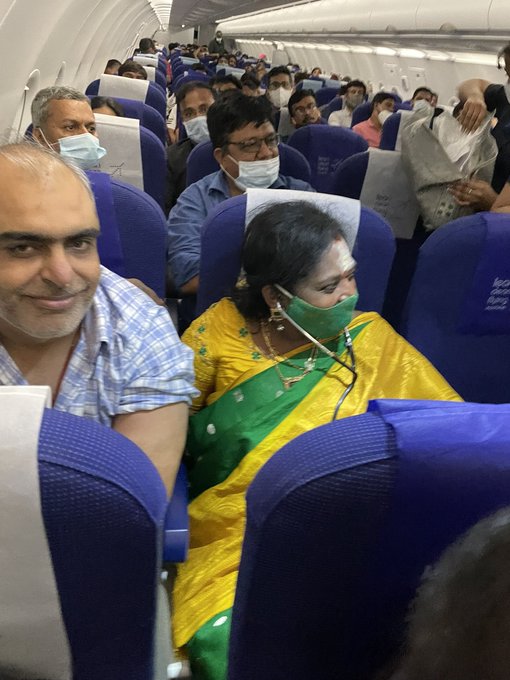 Oka patient, fellow passenger inka government servent life ni chala important moment lo save chesaru, governor gaaru. Oka life save cheyyadam tho paatu, Indigo airlines ki konni suggestions inka requests kuda icharu.
Indigo vallani oka first aid kit eppudu ready ga undela, and daanilo unna contents ni roju verify cheyyamani suggest chesaru. On board unna doctors ki railways lo laa, travel chart available unte, ey time lo aina treatment avtundhi ani chepparu.
Mr Mudavath, it was our absolute pleasure to have @DrTamilisaiGuv onboard with us. We salute our superheroes and can't thank them enough for their selfless contribution always.? https://t.co/CEAN6jpwHI

— IndiGo (@IndiGo6E) July 23, 2022
Indigo staff andhariki Cardiopulmonary resuscitation skills (CPR) training ivvamani, kudirithe citizens andharu kuda ilanti emergencies ki formal CPR training tiskovali ani chepparu. Tamilsai gaari quick help ni flight lo unna passengers and Ujela gaaru praise chesthu, thank chesaru.
If you wish to contribute, mail us at admin@chaibisket.com
comments
Tags:
DGP IPS Officer
,
tamilsai soundarajan
,
telangana governor