7 Things You Should Know About Annamayya (Besides That It Was A Nagarjuna Movie).
Anyone who knows music would know Annamayya… Ok who are we kidding! Every Telugu person in the world would be acquainted if not familiar with the legendary music composer Tallapaka Annamacharya. If not because of his music, you'd probably know him because of the movie Annamayya (Also, because that movie is telecast at least thrice a month).

He was a revolutionary and a musician; a deadly combination that worked calmly and melodiously towards change. His music and his story live on just as gloriously even after 6 centuries of progress. Some things about him and his work however stand out and Chai Bisket sought to shoot a spotlight on it! Read on and marvel at his awesomeness!

1. Born in 1409, he lived on till 1503 and earned the title Andhra Pada kavitā Pitāmaha or the Godfather of Telugu song-writing with his sheer devotion.




2. He composed over 32000 keerthana's, of which only a third are known today. That is, just 12000 of them that are even remotely known, while only 800 are actively practiced.




3. All of his music was lost and forgotten after his death for over 4 centuries and then reemerged dramatically. They were found written in copper sheets hidden in a secret cell called Sankeerthana Bhandagaram, beside the Hundi in the main temple of Tirupati in 1849.


4. He was one of the fewest people to oppose untouchability way back in the 15th century. Discrimination was in its peaks back then, and despite being an upper-caste born, he believed in equality of humans.




5. He encouraged his wife, Timmakka to pursue literary knowledge which was then a strictly patriarchal stream. She went on to write Subhadra Kalyanam, and is considered the first female poet in Telugu literature.


Arjuna and Subhadra.
6. 12th generation descendents of this saint poet still serve as the Official Song Masters of the Lord in Tirupati!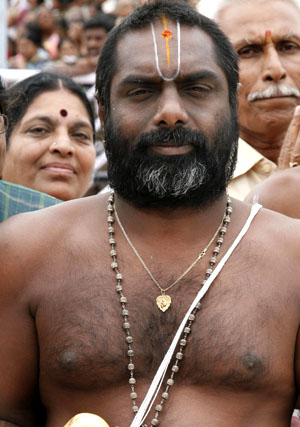 7. The State Government created a special committee just for the promotion of Annamaya's keerthanas in 1950 with Dr. Balamuralikrishna as its head.




Fun Fact! The famous movie Annamayya was released on his birthday, May 22nd, 18 years ago! Feel old yet?


If you wish to contribute, mail us at admin@chaibisket.com
comments
Tags:
annamayya
,
annamayya film
,
Lord Venkateswara
,
tallapaka annamacharya
,
Tirupati