Meet Sumit Antil, The 23-Year-Old Who Broke Records And Got India It's Second Gold This Paralympics
A day full of pride. Our heroes are making our hearts burst out of joy. Not one, two, or three it's a total of 7 medals and still counting. Yesterday our sunrise with one gold and set with another gold. We got our second gold from "Sumit Antil", the record-breaker himself. He won gold in men's Javelin throw – F64 final and breaks his own records thrice.
This article is all about "Sumit Antil". A 23-year-old boy from Sonepat, Haryana. Like others he is also a normal kid, aiming to be a wrestler. But oka fatal accident valla aa chapter akkade close cheyalisi vachindi. But he didn't think that makes the end of his book. He kept the spirit in his heart and opened a new chapter as an athlete.
Sumit comes from a Middle-class family. His father who served for the Indian air force passed away at an early age. Appati nundi single mother support tho life ni lead chesevadu. Wrestler avvali, India ni represent cheyali ani kalalu kanevaadu. He wants to get a job through wrestling and concentrate on his studies. But 5th January 2015 tana tuition nundi intiki vastundaga oka tractor tana bike ni hit chesindi. Danito tana left leg knee nundi amputate cheyalisi vachindi. Till then everything was going according to his plan but aa oka accident tho all his dreams shattered away.
He has always been a determined and persistent person. So, after months of recovery and prosthetic surgery, he let go of wrestling but kept practicing normal workouts. Appude valla village ki chendina oka Para-athlete Para Olympic games gurinchi Sumit ki introduce chesaru. Aa okka vishyam tana life ne change chesindi.
He joined para-athletes in 2018. At first, it was difficult for him to cope up with normal workouts. Knee deggera injuries avvadam, blood ravadam, sometimes prosthetic leg kuda break ayedhi. But he never gave up. 4 months training lone 45m mark reach avvadam, 5 hrs training isthe extra one-hour work cheyadam tells us how much he is into his goal.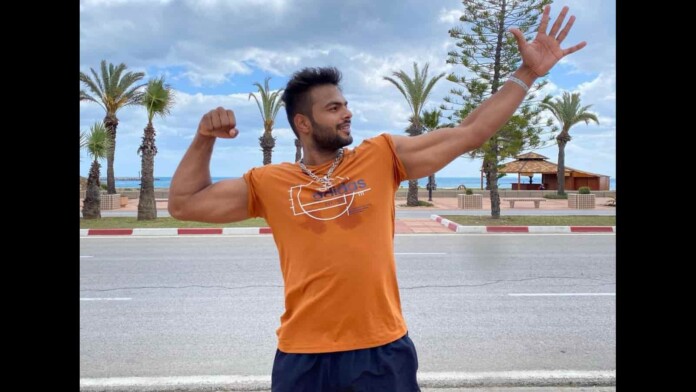 His Previous Records:
He won silver in Javelin throw – F64 at 2019 World Championship Dubai, UAE. He also competed with Olympic champion Neeraj Chopra in abled-bodied Indian Grand Prix series 3 held in Patiala. He finished seventh with a best throw of 66.4m while Chopra stood first.
The incredible world record break tho:
Yeah here comes the sensational performance by Sumit. He set a new world record at his first throw with a distance of 66.95m, then resetting it to 68.09m with his second throw. And again in his 5th attempt, he breaks his own records thrice and sets a new record of 68.55m. Here is a sneak peek of today's highlights.
World record over world record… First throw makes one with 66.95 and second throw breaks it with 68+ … God #SumitAntil is rocking the @Paralympics @Tokyo2020hi @ianuragthakur @Media_SAI @NisithPramanik @IndiaSports @narendramodi @PTI_News pic.twitter.com/sZ1dHKPF3V

— Deepa Malik (@DeepaAthlete) August 30, 2021
His family and friends celebrating his win, classic Indian style. Here's a clip of it.
#WATCH | Family members & friends of para javelin thrower Sumit Antil celebrate by dancing in Haryana's Sonipat

Sumit Antil won a Gold medal in Men's Javelin Throw with a World Record throw of 68.55m at Tokyo Paralympics pic.twitter.com/9OpcUjEx13

— ANI (@ANI) August 30, 2021
He says that his mother is the strength of pillar for his achievement and dedicates the award to his mother. He also says this was his first time in the Paralympics so he was a little nervous next time he will come back with 70m says the champion. Let's hope for the next best achievement until then your contributions will always be cherished champ.
If you wish to contribute, mail us at admin@chaibisket.com
Up next on Chai Bisket
Meet The Man Behind This Viral Banner About Plastic Bags At A Chicken Shop Near Siddipet
comments