Prathi Office Farewell Call Muchata – Situations You Will Encounter In Every Software Farewell Call/Meeting
Switch lu , Resignation lu , kotha company lu ivanni software vallaki common ye , kakapothe entha kaadanukunna oka company nundi inko company ki vethunappudu aa 1 year o 2 year o kalisi pani chesina team tho chala memories e undi untayi , So avanni direct ga kakapoina indirect ga discuss cheyadaniki , velthunna employee ki oka memory iddhamani Farewell Meeting o call o set chestharu , antha bane undhi kadha Memories panchukuntaru velpotharu anukunte Payasam lo uppu vesinatte, Anni rojulu unna project lo manager dobbhulu , vichithra jeevulu , ayina escalations okata rendu enni positive emotions unte anni pressure emotions kuda untai , so anni mix kotti Farewell call lo oche matalu , situations crazy untayi , Asala a meeting/Calls lo emem vintha situations chusthamo oka dagara pettamu , oka look eseyandi
1) Ekada leni Premalu
Idekadi prema ra mowa , inni rojulu ledhe ? Sudden ga enti idhi , nen lekapothe Project ledhannantha Acting chesthunaru , Asala project nundi velpothundhe me torchure barinchaleka kadha ra bujji…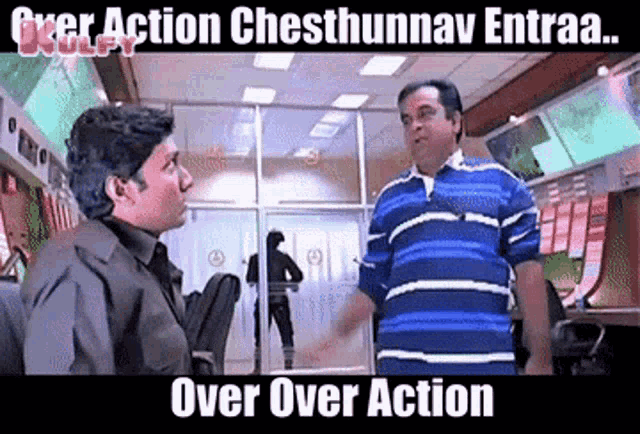 2) We want Speech , We want Speech
Vadilesi velpothunna Venkat rao be like :Aha nenu oka Trivikarm idhoka project daniki malli daniko speech .
Vokay Vokay Vokay This project helped a lot to grow , Thanking my seniors and juniors for the help they extended.
Venkat rao Inner feeling : Abbah em fakev raa… Youre an Actor man
3)Project Samasyalu Chepthadane Chinni Chinni ashalu
Anna elano company nundi pothunav , andhari mundhi manager izzath tisey anna , mem andharam masth happy feel aytham. Maha ayithe em aythadi cheppandi ?
Venkat Rao : Chala Sekalu unnay ra meelo….sare alane chedham
4)The over emotional fresher guy
Annna enduku velthunav anna , naaku KT ichindhi nuvve anna , I miss you anna , nuvvu leni project oohinchukolenu anna ….
Venkat Rao : Videnti na kanna ekuva feel avuthunadu
5)The Queue lo Feelings cheppadam
Parichayam unna lekunna edoti matladali adhe magicu , Mid call lo queue tappi iddar okesari mataldithe
Nuvvu cheppu
Aha ledhu parled nuvvu cheppu
Ledhu Ledhu Nuvve cheppu
Venkat Rao : Ehe evado okadu cheppandi
6) Lopala Full Happiess
Fresher nundi Manager varaku , prathi okkalu mana positives and mana work gurinchi manchiga matlade oke okka call idhi , bayatiki enni unna , vallandari matalu vinnaka lopala high feel osthadi
7) The Office Non official gang's Call
Seniors Strictly Prohibited
Project lo manakantu oka close batch untundi , kastal ochina valle , appreciationlu ochina valle , akade bitchinglu , scam lu , planninglu anni avuthu untai , aa call lo anni cheppukuntam , Villani matram pakka miss avthamu vere company ki velthe
8)Best and Worst Moments
Sudden ga andharu netho best moment idhi , bad moments ivi ani start cheyagane telikundane emotional aypotham. Okasaariga nostalgia antha koduthundi , Ippudante WFH kani inthak mundhu ekuva time spend chesindhi vallathone kadha
9) Manager kullu satirlu
Ekadikellina vidu matram maradu
Manager : Seems like Venkat Rao got a good salary , how about an online party ? Send us Amazon coupons
Venkat Rao : Good Salary – No… , Better Manager – Yes .
(Visirinadha Vidhi galam.mp3)
10)The iconic dialogue
"All the best for your future endeavours and we will sure keep in touch"
Adhi jaragadhamma , sare ellostha inka
Connect ayyarane anukuntunamu , PS: Cake and Party WFH punyama ani fasak ayyay ga ? , So avandi Farewell Meetings and Call Muchatlu Tag your Office gang here alane Me project nundi velli , touch lo untam ani hand ichina muthyalani tag cheyandi. Also comment a farewell experience that you felt is crazy..IkaSelavu.
If you wish to contribute, mail us at admin@chaibisket.com
Up next on Chai Bisket
Matladu Ra Arey: Things You Will Relate If You Have A Boring Friend In Your Gang
comments
Tags:
chai bisket
,
Every Software Farewell Call/Meeting Scenes
,
farewell call of software employee
,
farewell calls IT Office
,
IT Employee in Final Call
,
IT employees
,
notice period
,
software employee
,
Software Employee Farewell Meeting
,
software employee memes
,
software jobs