Meet Our Amalapuram Boy, Satwiksairaj Rankireddy, The New Badminton Sensation Of Our Country
Thomas cup, the world cup of badminton. And the cup has a new country to lift it. Our very own India. India that hasn't even participated in this tournament before this, is now the new champion of the Thomas Cup. They defeated the 14-times champions Indonesia in the final and created history.
And hailing in this victory is our Telugu boy, Satwiksairaj Rankireddy. The 20-year-old Amalapuram boy played a very huge role in the tournament by winning the doubles match with Indonesia along with his partner Chirag Shetty in the finals giving India a lead. This boy is worth all the appreciation in the world. But before that let's know about him.
Sathwiksairaj Andhra Pradesh lo unna Amalapuram District lo putti perigaadu. Amma Rangamani housewife and nanna Kasi Vishwanat physical education teacher ga work chesi retired aiyyaru. Nanna Vishwanath formerly state-level badminton kuda aadaru. Sathwiksairaj valla pedda annayya Ramcharan Rankireddy kuda badminton player.
Sathwiksairaj ki 6 years unnapati nunche badminton midha chala interest undedhi. Initial gaa training valla nanna Vishwanath deggara tiskunnadu. Amalapuram lo unna officer's club ki president valla nanna avvadam tho, nanna training inka protection lo badminton practice chesevadu.
Singles and doubles try chesaka, doubles midha ekkuva focus chesi dantlo intense training start chesadu. Nanna training loone, district badminton tournaments aaduthu tana first title Sub-Junior State Badminton Championships U-13 category lo gelichadu.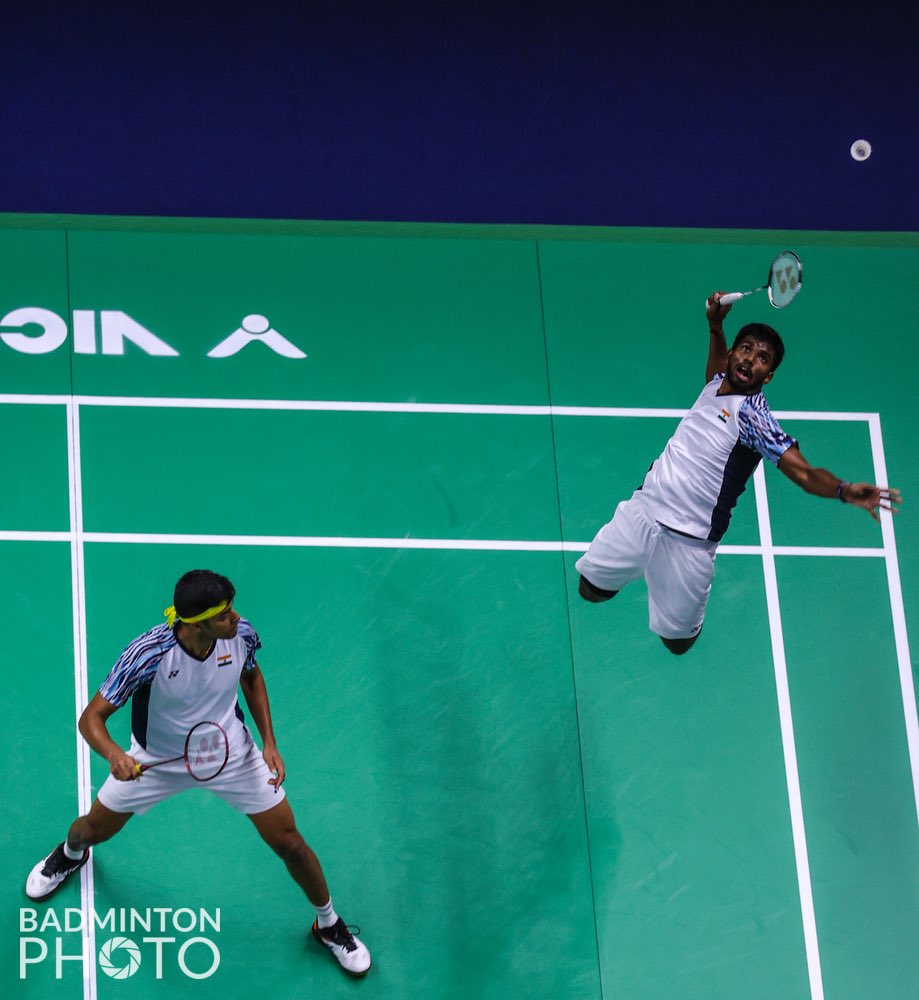 Sathwiksairaj ki unna talent inka potentional chusi, oka academy lo training cheyinchali ani decide aiyyaru nanna Vishwanath. 2014 lo Pullala Gopichand Academy lo join cheyinchi, former badminton champion Pullala Gopichand deggara training start chesaru.
There was no looking back after he joined the Pullala Gopichand Academy. His victory stream started when he won his first national doubles title with Krishna Prasad Garaga at the Sub-Junior Nationals Badminton in the U-17 category. Followed by his first international doubles title in 2015 at the Asian Junior Badminton Championship.
Inka akkada start aina tana victories ki tirugu ledhu. International and national level lo chala medals gelusthu, kottha records ni set chesthu velladu. 2019 lo Chirag Shetty tho kalisi aadina Thailand Open doubles Satwiksairaj ki chala fame inka limelight techindhi. Vallu India nunchi Super 500 series title gelichina first pair gaa stand out aiyyaru.
2020 lo country tana conttibution ni gurthindhi, Arjuna Award tho felicitate chesaru. 2020 lo covid survive aiyyi, India ni Olympics Men's Badminton doubles lo represent cheyyadaniki Tokyo ki velladhu.
And now, the Thomas cup. It was his dream come true moment winning it. And after his win, he said, "It's a great feeling and we are delighted to see the kind of welcome we received upon our arrival. We did not expect this result, it was a dream tournament for us, a dream of 10 days. We are still enjoying the moment,"
If you wish to contribute, mail us at admin@chaibisket.com
comments