The Helmet Man Of The Year: Meet Raghavendra Kumar Who Distributes Thousands Of Helmets Every Year
Humanity. Selflessly helping. A quality, a character trait that is so rare to find these days. But when we do find it and hear stories about the deeds, it somewhere brings a big smile on our faces and makes our hearts happy. This article is about one of those. A selfless deed that happened because of a personal loss. It's about the helmet man of the year, Raghavendra Kumar.
Raghavendra Kumar, Bihar lo putti, Greater Noida lo law chaduvukunna oka saadharamaina 32-year-old manishi, ippudu Helmet man ani peru techukunnadu. Chutttu unde motorcyclists ki helmets panchadam tho paatu, less privileged kids ki inka merit students ki books kuda supply chestadu.
His call to distribute helmets all around his city and the neighboring states was a greater cause. 7 years back tana close friend ni oka road accident lo kolipoyaadu. That incident shook him. That devasted Raghavendra as his friend was the only child to his parents. Doctors told them that the death could've been avoided if his friend wore a helmet. This gave him the inspiration to quit his law practice and start doing social welfare.
Noida nunchi Bihar daaka, whoever motorcyclists were found without wearing a helmet, started giving them one. Oka research nunchi Raghavendra telusukunnadu, that 95% of accidents in India can be avoided if they wore a helmet ani. This gave him an even bigger push to supply helmets to everyone.
Last 7 years lo more than 49,000 helmets distribute chesadu 22 states lo. Anni states kanna, Bihar lo annitiki kanna ekkuva helmets distribute chesadu with a count of above 14,000. Dinitho tana financial state chala disturb aindhi.
His parents were a little tensed seeing his activities. Ila helmets distribute cheyyadam tho, chala appulu kuda aiyyayi. Aa appulu teerchadaniki Bihar lo unna valla paatha land ni 40 lakhs ki ammesadu. Later he sold his house too, to buy more helmets and help everyone in need.
Okaroju, ila helmets distribute chesetappudu, Patna lo oka manchiga chadive abbayi ni chusadu. This boy didn't have the books to read so Raghavendra donated him books. Donate chesina konni months ki aa abbayi valla parents call chesi thank you chepparu. Further informing that the kid topped in his exams by reading with the books he donated.
Aa maatalu vini chala emotional aipoyaru. Which lead to his second great deed. Helmets ichina valla deggara paata books exchange lo tiskunare vaaru. 2016 lo Noida lo "ER-11 book bank" start chesaru. Public nunchi response chala baaga ravadam tho tana book banks ni Noida nunchi vere states ki expand chesadu.
2016 nunchi ippati daaka 1.5 lakh baaga chadive pillalaki books donate chesaru. He has established a total of 74 book banks all around the country. Inka book banks pettadaniki, helmets konadaniki chala money save chestunnaru.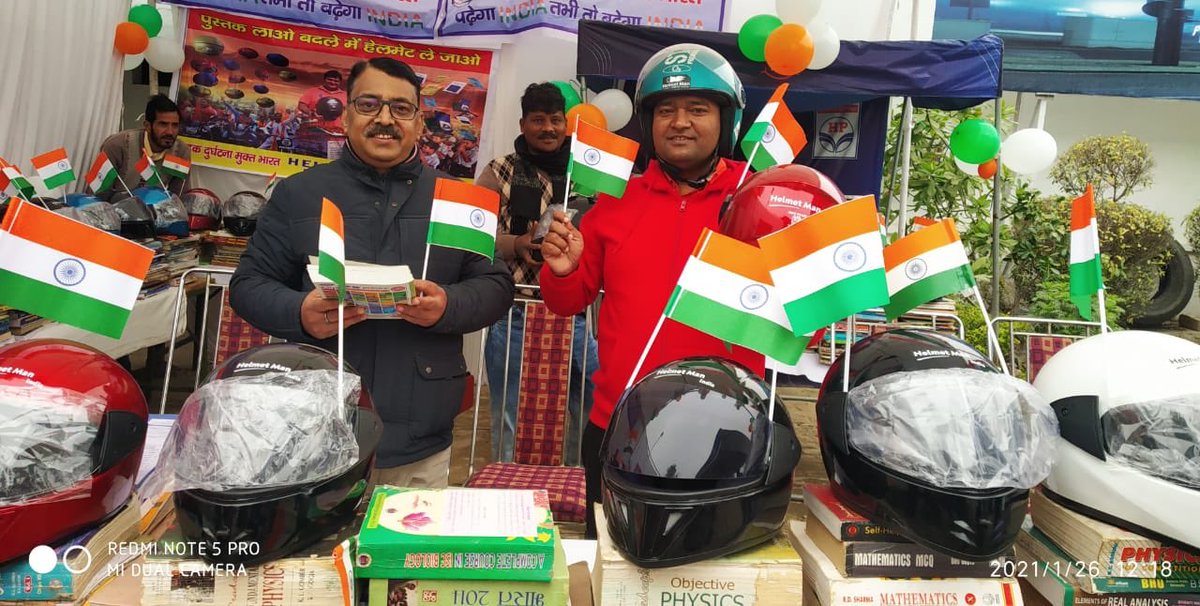 People like these get very less recognition because they do their good deeds silently. But raising more awareness towards their deeds is going to help them help people more efficiently. It's amazing how inspiration can come from personal incidents. We hope your deeds help many more people.
If you wish to contribute, mail us at admin@chaibisket.com
Up next on Chai Bisket
No Non-Veg During Ganesh Chaturthi: Struggles Of Chicken Lovers During Festive Season
Up next on Chai Bisket
School Computer Lab Muchatlu: Nostalgic Things We All Did In Our School Computer Labs
comments
Tags:
accidents
,
book banks
,
funds
,
helmet
,
helping hands
,
helping people
,
road accidents