Here's The Story Of Manjamma Jogati, A Transgender Woman That Has Been Honored With Padma Shri
Struggles and sufferings in life should never take away that smile from your face. Karnataka's transgender dancer Manjamma Jogati proves this point as she walks towards the President for the Padma Shri yesterday. Her smile, grace, her love, and warm greetings made our day even brighter. But her life was no less than any roller coaster ride for a transgender. With a lot of highs and lows. Let's know about her.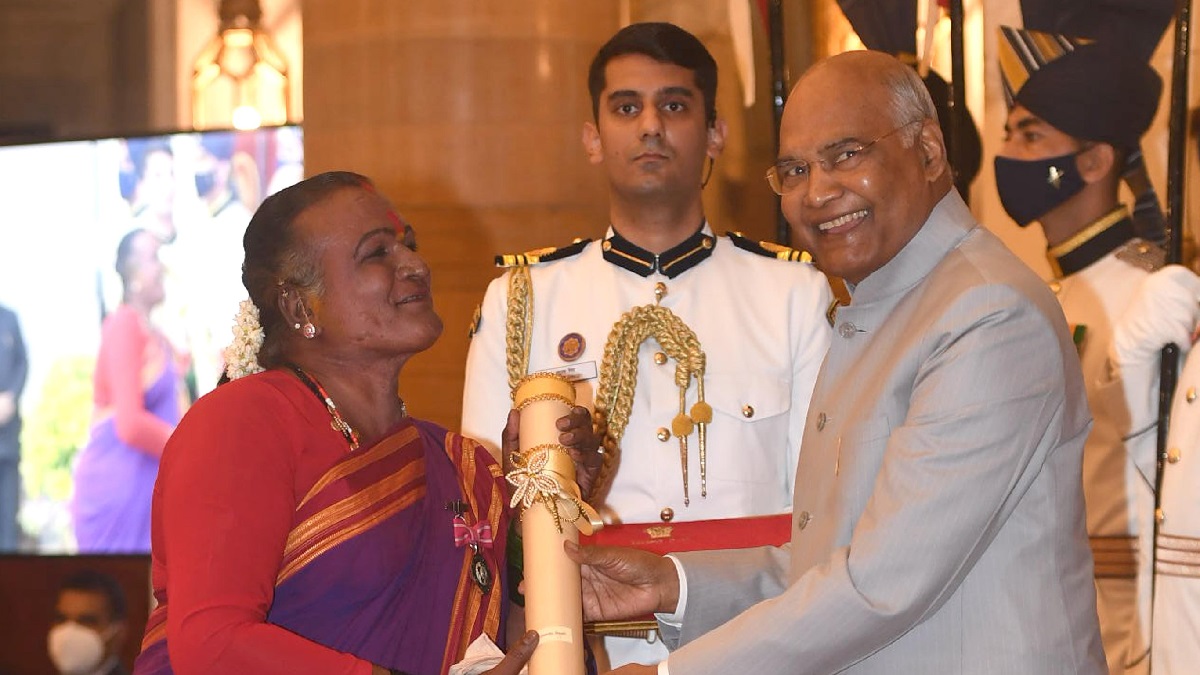 Manjamma Jyothi. She has been awarded Padma Shri for her contribution to folk dance. Kaani dance nerchukovadam start cheyyakamundu, chala hardships face chesindhi. Manjamma Karnataka lo unna Ballari district lo putindhi. She was first recognized as Manjunatha Shetty.
She studied till 10th standard. 15-year-old unnapudu, tana amma-nanna Jogappa ane oka ritual cheyinchadaniki tiskoni vellaru. Aa pooja chesthe, God or goddess ni pelli cheskuntaru ani valla nammakam. Aa pooja lo Manjunatha, Manjamma gaa maararu. Tana identity ni full gaa accept chesi embrace cheyyadam start chesindhi. Danitho, she was not allowed to enter her own house as Majamma Jogati.
After embracing her true identity, she took a saree and draped it around. She got on the roads and started begging for a living. But she always put her head high. Kaani oka transgender gaa tana life chala dark phase looki vellipoindhi. Sexual abuse face chesindhi. Life lo ilanti situation face cheyyadam tho chala mental trauma looki vellipoyi, suicide cheskundamu ani anukunnaru.
But life is all about getting ourself out from those dark phases and living our lives with courage. So did she. This is when folk dancing came into her life. Oka father-son duo dancing ni Manjamma ki introduce chesaru. Valle dance nerpincharu. That unfolded a new life of her life. Daani tarvata Jogathi Nrithyaa ane dance form nerchukodam start chesindhi. She danced across Karnataka and made this dance form popular.
Karnataka lo performing arts ki government body aina Jaanapada Academy ki Manjamma first transgender president gaa stand-out aiyyaru.
Her greetings to the President and her blessings have caught a lot of eyes at the Rastrapathi Bhavan yesterday. Everyone around clapped at her gestures and her energy while she blesses the President. Everyone on social media applauded her too for representing her community in the best way possible.
#WATCH | Transgender folk dancer of Jogamma heritage and the first transwoman President of Karnataka Janapada Academy, Matha B Manjamma Jogati receives the Padma Shri award from President Ram Nath Kovind. pic.twitter.com/SNzp9aFkre

— ANI (@ANI) November 9, 2021
Her life has seen a lot of hardships. She has seen extreme poverty and faced a lot of criticism in the world. Our world has a lot of misconceptions about the transgender community that has made their lives harder but her smiling face shows how blissfully they live their lives. What a great lady with such a great pious.
If you wish to contribute, mail us at admin@chaibisket.com
Up next on Chai Bisket
Meet Padma Shri Harekala Hajabba, The Orange Vendor Who Saved Money To Build A School
Up next on Chai Bisket
This Guy's Short Poem Is Relatable To Everyone Who Has An Office Crush In Their Life
Up next on Chai Bisket
Railway Biddalu: Things You'll Relate To If You've Lived In Railway Quarters
comments
Tags:
karnataka
,
padma shri
,
padma shri awardee
,
transgenders