Remembering The Flying Sikh, Milkha Singh Through The Legacy Of His Life And Achievements
Milkha Singh, not just any athlete. Not just any name. But a legacy and a name that will be remembered and celebrated at all times. Legendary Indian sprinter Milkha Singh also known as "The Flying Sikh" across the world. Milkha Singh gaari achievements are too many to count on. His life was full of his achievements because of all the hard work he did and the perseverance he had in his days.
The 91-year-old was tested positive for COVID-19 on May 19 but was in home isolation at his Chandigarh residence after revealing that he was asymptomatic. A few days later, he was admitted to the ICU of Mohali's Fortis hospital due to "COVID pneumonia". Milkha Singh died on Friday due to complications caused by COVID-19. He was admitted to the Intensive Care Unit (ICU) of a hospital in Mohali on May 24.
To honor his name and the legacy he had, here are few things to know about the legendary athlete, and also to celebrate his life.
His childhood was at a place that was still British India. Milkha Singh ki 16 years unnappudu, India-Pakistan partition lo tana family mottham ni kolipoyadu. Milkha Singh valla nanna, chiviri maatalu, "Bhaag milkha, bhaag". Valla nanna maata vini, akkada nunchi parigettadam start chesadu. Then to save his life, but who knew that it would make his life as well. Valla amma nanna inka 7 anna chellilanu, kalla mundhu kolipoyina, Milkha… akkada nunchi parigetti, India cheradu. Blood tho nindina tana ade shirt ni 10 days ala ne veskunnadu. He said "If I haven't run that day, I would have been killed"
India ki ochina kotthalo, petty crimes like stealing valla, Tihar jail lo chinna sentence serve chesaru, milkha. Then he got a job in the Army. And realised his life's call. Tana lo unna aa athletic ability ni army lo telusukunnaru.
Milkha gaaru has won Gold at the 1958 Commonwealth Games, tarvata finished fourth in the 400 metres at the Rome Olympics, danitho bronze medal konchem tho miss aipoindhi. He has won four Asian gold medals and finished fourth in the 400m final at the 1960 Rome Olympics. His success and achievements had no end. He worked hard and hard and never stopped running.
1960 lo, Milkha gaarini 200m event lo participate cheyyadaniki pilichaaru which was at an International Athletic competition in Lahore, Pakistan. Pakistan nunchi paaripoyi India ki ochina tarvatha inka eppudu akkada adugu pettaledhu ani mundhu NO chepparu.
Kaani eventually Pakistan ki vellaru. Pakistan's Abdul Khaliq, mana milkha ki unna main rival ki akkada stadium lo chala support unna, milkha gaaru won the race. Appati Pakistan second president Gen Ayub Khan milkha ki ichina nick name ey "THE FLYING SIKH". Tanatho last daaka unna name. "Ippudu andharu nannu the flying sikh ani pilustunnaru ante daaniki kaaranam Pakistan president" ani chepparu oka interview lo.
India kosam nenu Olympic medal kottaledhu, kaani evaraina mana desham kosam oka Olympic medal testhey chudali anedhe na korika ani chepparu milkha gaaru.
BBC tho oka interview lo cheppina vishyalu:
"Oka bucket ninda na sweat nindipoye daaka nenu aage vaadini kaadhu. I used to run for 6 hours a day"
"Na boundaries ni nenu chala push chese vaadini, so bad that I used to get admitted to a hospital. Hospital lo admit ainappudu devudiki ila inka eppudu cheyyanu ani pray chestunde kaani malli ala ne chestunde"
"We had nothing in our times. The athletes and sportsmen in those days didn't earn much money. We worked for the applause, people's appreciation inspired and motivated us, we ran for the country," he said.
In 2013, Milkha singh life midha "Bhaag Milkha Bhaag" movie teesaru. The movie was to inspire the coming generations, he said.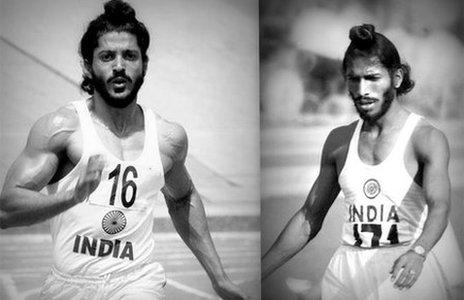 Milkha Singh, a life full of achievements. A life where he's seen all the biggest lows and highs and has received all the appreciation from the world. You will forever be remembered, sir. RIP.
If you wish to contribute, mail us at admin@chaibisket.com
Up next on Chai Bisket
Vaccine Tho Mamulga Undadhu: Memes That Sum Up The After-Effects Of The Covid Vaccine
Up next on Chai Bisket
Naku Interest Poyindhi: 10 Little Things In Life That Upset Women
comments
Tags:
athlete
,
bhaag milkha bhaag
,
covid19
,
india pakistan
,
milkha singh
,
olympics
,
running
,
seperation
,
war