Meet Mariyappan Thangavelu, The South Indian Paralympic Silver Medalist, About Whom Dhanush Wanted To Make A Biopic
Damn! Damn! Monna jarigina Olympics lone Indians medals medha medals tho kummesaru anukunte. Ipudu Paralympics lo anthaku minchi vere level lo ichipadesthunaru. Yesss, 9th and 10th medals added to the list. The Indian duo repeated itself again. Mariyappan Thangavelu wins Silver and Sharad Kumar takes Bronze in Men's High jump T63. This time the silver is from the south.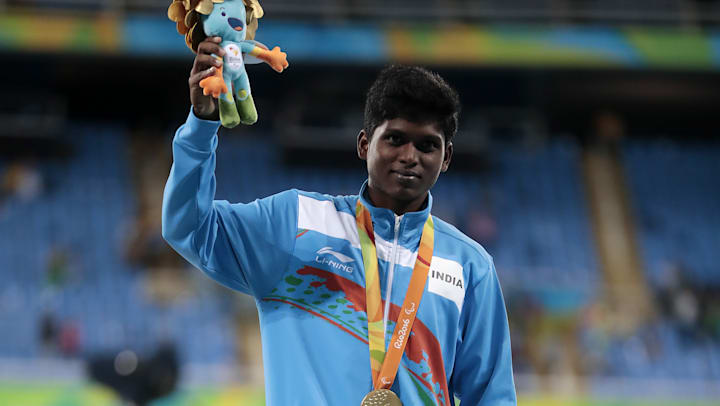 Mariyappan Thangavelu:
Mariyappan Thangavelu was born in 1995, in Periavagadampatti, a small village in the Salem district of Tamil Nadu. He has four brothers and a sister. Tana chinnapude vaalla father family ni vadilesi vellipoyaru. Appatinundi mother okare kashtapadi andarini pencharu. First daily wage labourer ga bricks carry chesthu roju ki 100 rupees tho saripettukune vaallu, taravata cycle medha vegetables ammadam start chesaru. It was an extremely hard life for his mother but she was willing to do everything for the sake of her children. 
Mariyappan vaalla mother pade kashtam chusthu perigadu. However tragedy struck his life, when he was just five years old. Tanu school nundi vache time lo severe accident jarigindi. He suffered permanent disability in his right leg when he was run over by a drunk bus driver. The bus crashed his leg below the knee causing a severe stunt. This was the darkest phase of his life. Tana treatment kosam valla mother 3 lakhs loan teskunna unfortunately, he was left with permanent disability. 
Mariyappan did not let his disability bring him down. He didn't feel any different from other able-bodied students. Such a positive outlook he had! Mellaga studies continue chesi, he completed his senior secondary education. School life lo volleyball ante interest undedhi but ah game physical aspect ni match cheyalekapovadam valla, physical educator high jump cheyamani encourage chesaru. 
Tanu 14 years old apudu able-bodied students tho compete chesi second place lo vachadu. This victory encouraged him to win many more medals at school and college levels. 2013 lo National Para-athletics championship lo tana talent and skills chusi Satyanarayana ane coach chala surprise ayyi world class training ippinchadaniki Bengaluru teskellaru. Just one and a half years training tho ne 2015 lo world No.1 place sadhinchadu. 
Olympic Journey:
He became an expert in the high jump in no time. In 2016, Rio Paralympics he became India's first Paralympic Athlete to win the gold medal in Men's high jump T-42 event with a leap of 6 ft 2 inch.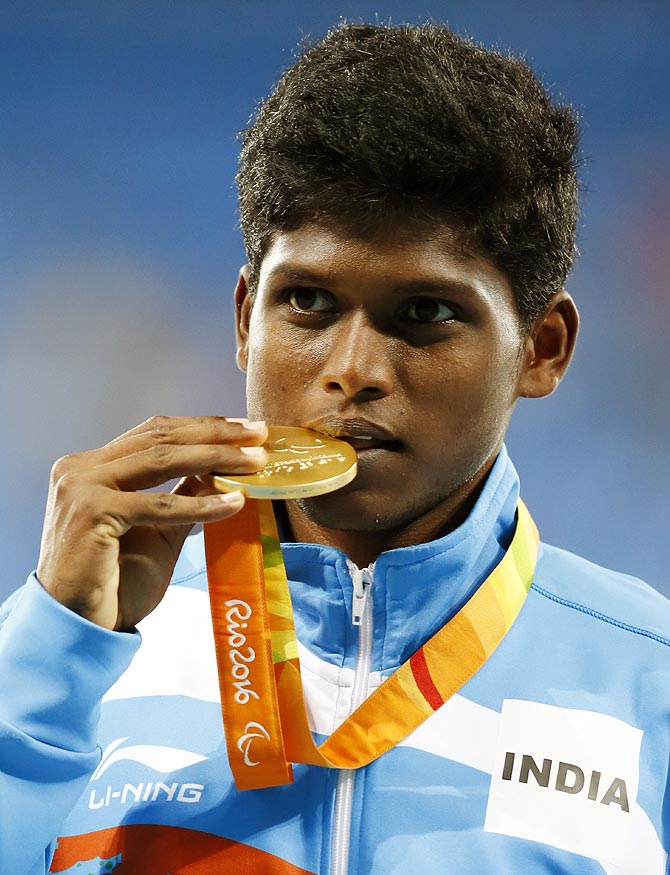 Ivala Jarigina Finals lo Mariyappan Thangavelu and Sam Grewe were involved for the gold medal. Chala minute difference tho gold miss ayindhi. Sam Grewe marked 1.88m and Mariyappan marked 1.86m.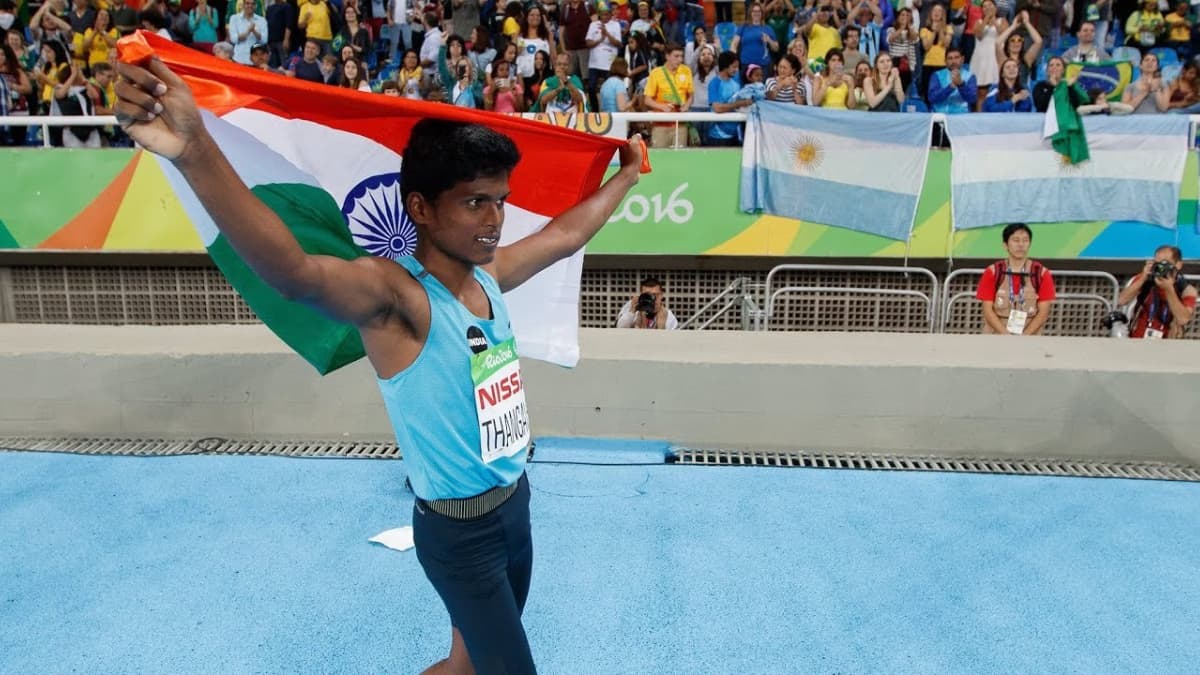 Other Achievements:
Padma Shri and Arjuna Award in 2017
2016 Rio Paralympics Gold medalist
Major Dhyan Chand Khel Ratna Award in 2020
"My performance at selection trials (1.86m) was one of my best after my Rio 2016 (1.89) performance. I had an ankle injury in 2017 and it took some time to heal. It's been a while since I had been looking to get my old rhythm back. And I believe I have got it back now. I feel I am ready for the games," he said.
Also, a movie about his life is under production. Aishwarya rajinikanth and Dhanush kalisi tana biopic teyyali anukunaru. Rio Olympics win avvagane motion poster kuda release chesaru. The movie updates or the actual release date of the movie are not known. Hopefully, ilanti movies inka vaste Mariyappan lanti entho mandhiki motivation vasthundi. 
From winning medals in school events to winning medals in Paralympics whatta hard work man. Also, he became the third Indian to win multiple medals at the Paralympics.
Congratulations to him for this amazing feat! The nation is so so proud of you!! Also kudos to his mother!
If you wish to contribute, mail us at admin@chaibisket.com
comments
Tags:
High jump paralympics
,
mariyappan thangavelu
,
mariyappan thangavelu biopic
,
mariyappan thangavelu dhanush
,
mariyappan thangavelu paralympics
,
silver medal at paralympics
,
tokyo paralympics
,
tokyo2020