Meet Krishna Nagar, The Para-Badminton Athlete Who Won Our Final Gold This Year
Woahh…Ee year mana India records ni break chesindi. Paralympics games lo oka history create chesindi. Previous years total medal numbers chuste ee single year numbers ey ekkuva vunnayi. Aa numbers chustunte first time mathematics ante bayam veyaledu. Ee sari numbers enta ante hands raise chesi mari answer chepali ani vundi. "19 for total and 5 for gold".
Recent ga 5th gold medal mana home ki techina champ Krishna Nagar. E roju Badminton SL6 category lo Krishn Nagar Gold win ayite, SL4 category lo Suhas Yathiraj Silver win ayyaru . Ninna Badminton SL3 category lo Pramod Bhagat gold, Manoj Sarkar bronze win ayyaru. Total 4 medals in parabadminton.
The Gold Moment :
Krishna Nagar SH6 category lo India nundi first gold medalist ga record create chesaru. Opponent Man Kai tho finals lo tana own style lo finish chesaru. 21-17,16-21,21-17 points tho vodinchadu. Opponent chaala strong avvadam tho 2nd game lo defeat ayina 3rd game lo strategy marchi tana competitive skills use chesi mana India ki gold moment techadu.
Being bullied in school :
Krishna is a 22 year old boy born in Jaipur, Rajasthan. Tanu 2 years vundagane Dwarfism valla diagnosed ayyaru. Vala parents multiple doctors ni consult chesina bones lo growth deficiency valla height peragaru ani chepparu. School lo height takkuva ani chaala mandi krishna ni bully chesevaru anta. Danitho height peragadaniki different ways try chesaru. Yoga, Exercise, various sports adatam but avi emi use ayyevi kaadu.
Teenage vachaka he accepted himself and found love in badminton sport. Jaipur college lo badminton baga adatam tho akkada coach para-badminton sport ni introduce chesaru. 2017 lo sport lo join ayyaru appati nundi he didn't see back. He is going forward and forward.
Olympic Journey and Previous Records:
He was very happy when he got the invitation from Tokyo-2020. He says while covid'19 brings crisis and anxiety. He want to make the people happy and smile by bringing medal from Tokyo-2020 and thus he prove his words. He is the world no2 in SH6 class. He won 2 gold medals at Dubai 2021 para Badminton International in April. He also won bronze at Asian Para Games 2018 and Basel 2019 World Championship.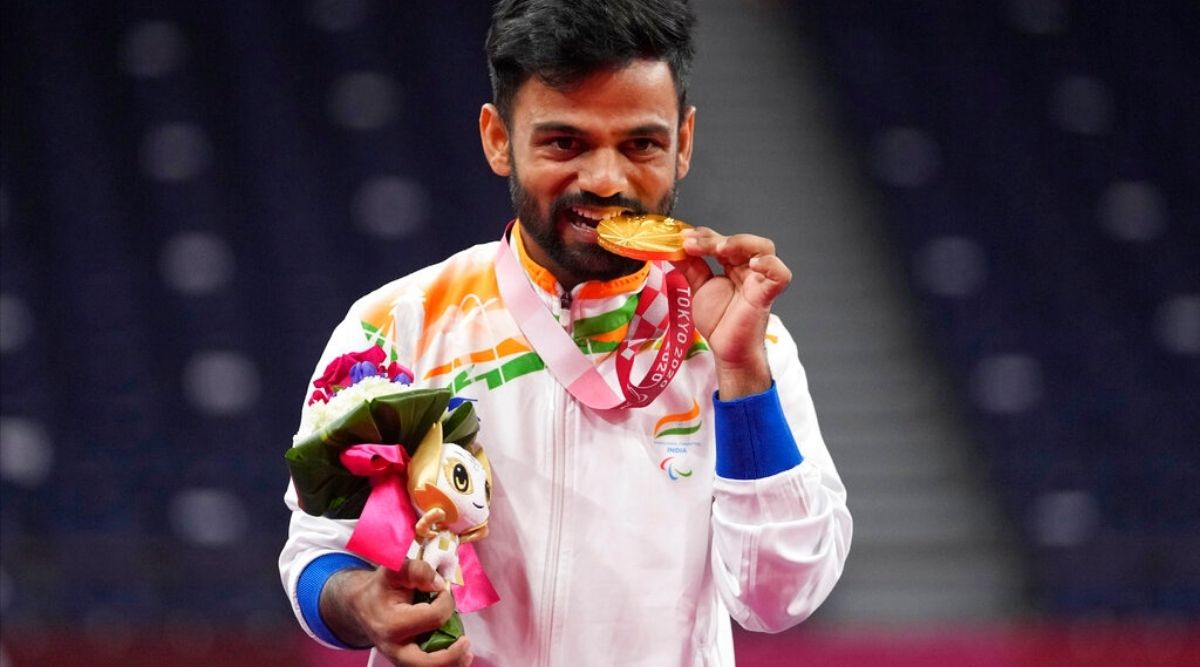 Time for National Anthem to be played once again in Tokyo.
His story is a lesson to everyone. One who bullied in school may lose his confidence and may hide behind the doors. But he never lose the hope, had his will power. That's an outstanding win hero!! Congratulations Champ!!
History is being scripted by all the Real Life Heroes. The Nation is truly proud of you all. Jai Hind!
If you wish to contribute, mail us at admin@chaibisket.com
Up next on Chai Bisket
Meet The 75 Year Old Hyderabadi Who Cycles 40KMs In Just 3 Hours
comments
Tags:
Krishna nagar
,
krishna nagar gold medalist
,
krishna nagar para badminton
,
krishna nagar paralympics
,
para badminton
,
tokyo paralympics
,
tokyo paralympics 2020
,
tokyo paralympics badminton
,
tokyo2020