The Viral 'Kacha Badam' Katha: Meet The Singer, Bhuban Badyakar Who Went From Selling Peanuts To Performing Live
Badam badam.. Kacha badam! Mundhu lyrics anni telika bhoothulu paadina ee badam matram correct ga paduthunam. Nidra lo, work chesthu, nadusthu ala notlo nundi, mind lo nundi potle andi ee paata. Ee Instagram reels mahima alantidhi manam matram em chestham. Gatha one month nundi reels lo trending entra ante mana lanti social media pichollam itte cheppestham.. Adhe kacha badam. Mari adhi ekada, ela start ayi viral ayindho chudham randi.
Badam Badam Song origin:
Ee new hit Kacha badam song origin ye veru. This song belongs to Bhuban Badyakar, a resident of Kuralguli village, Birbhum district in West Bengal. Ayana verusanaga kaayalu (peanuts) ammuthu ah villagers ni attract chesthu, konela ee song paadaru.
Pilla example: Ullipayalamma ullipayalu, Patha samanlu ammutham
Ala paduthu, ammuthu unapudu oka roju tana dagara peanuts kontu, song bagundi ani record chesadu. Soon enough, the song found its way to the internet. Akkaditho aguthara manollu.. Danikiremix kotti, Instagram lo vadhili, viral chesesaru.
Song meaning:
Badam Badam A Dada Kacha Badam
Amar Kache Naiko Bubu Vaja Badam
Badam Badam A Dada Kacha Badam
Amar Kache Naiko Bubu Vaja Badam
Badam Badam A Dada Kacha Badam
Amar Kache Naiko Bubu Vaja Badam
If you have bangles, imitation chains, old household items vaatini ichi peanuts konukondi ani ardam. Ante money kakunda edhaina vasthuvu ichi, kacha badam adhe pachi verusanaga teskodam.
U-TURN:
A few days ago, Godhulibela music, the music company that created the remixed version of the song, gave Bhuban, a sum of Rs 3 Lakh. He was also invited to perform his Bengali song at Kolkata last week. Here's the last week's performance:
Badyakar said, "I want to be one of you, now that I'm here. I want to remain an artist. I have become a celebrity now".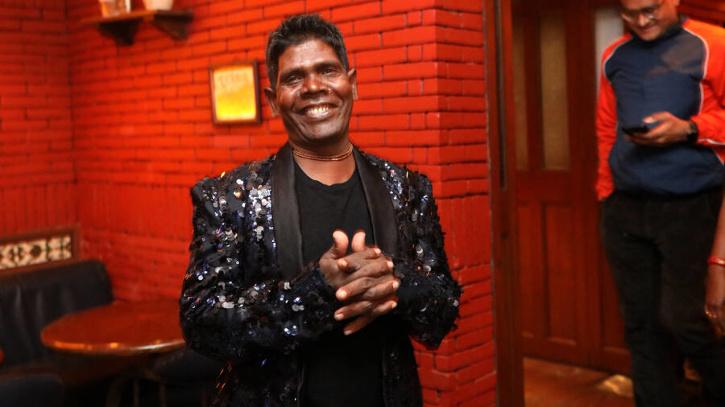 Dadagiri show:
Bhuban even made an appearance on one of the Bengali's most popular relaity show "Dadagiri unlimited". And host inkevaru anukuntunaru mana Dada Sourav Ganguly. Ayana Dada ki kacha badam kuda ivadam jarigindi.
"He is such a humble person. Sourav even gave me a gift," he said.
Here are some reels on this trend:
Allu Arha:
2. Anupama Parameswaran:
3. Myla Father-daughter duo:
4. Dancing Dad- Ricky Pond:
From selling peanuts to Internet star, whatte story! Inkenti mari ippati nundi ayina lyrics correct ga padandi mari.
If you wish to contribute, mail us at admin@chaibisket.com
comments
Tags:
Bhuban badyakar
,
Bhuban Badyakar live performance
,
Instagram reels
,
kacha badam
,
kacha badam bhuban badyakar
,
Kacha badam Instagram reels
,
kacha badam reels
,
Trending reels