10 Record-Breaking And Making Moments From IPL 2022 That Every Fan Must Know
15th IPL season, 74 matches, 10 teams, and 2 months of absolutely mind pooye entertainment. It came to an end last night with the debut team, Gujarat Titans taking the trophy home. This season was without a doubt a hit season where many records were broken, new records were made and new talents were discovered. Come, let's know about them!
The biggest crowd: A crowd of 1,04,859
Two years tarvata IPL final ga India ki return ochindhi. Danitho mana crowd kuda full josh chupinchesindhi. Starting matches lo 25% occupancy allow chesina.. adhi melliga increse chesi, Grand Finale ki 100% occupancy pettedam tho record-breaking number of audience match chudadaniki vacharu! Ninnati final match history loone most-attended cricket match laa record set chesindhi.
Marvellous! 👏 👏

This is a sight to behold! 👌 👌

Follow The Final ▶️ https://t.co/8QjB0b5UX7 #TATAIPL | #GTvRR | @GCAMotera pic.twitter.com/QDiO6IxcsJ

— IndianPremierLeague (@IPL) May 29, 2022
Guinness Book: A Giant Jersey!
Ninna jarigina grand closing ceremony lo Giant jersey ni display chesthu, aa jersey ni Guinness Book of World Records for the biggest jersey ki register chesaru.
Most Sixes By A Country
IPL 2022 lo total 1062 sixes kotti, the highest number of sixes by a country record ni set chesaru, mana batters.
Fastest Indian Bowler: Umran Malik
Mana Sunrisers rising star, Umran Malik, 157 kmph speed tho, season motham lo 22 wickets tisi, prati match lo swiggy fastest delivery award gelusthu…. fastest Indian bowler gaa record set chesadu.
First Uncapped Century: Rajat Patidar
RCB main players out ainappudu, middle order lo ochi RCB battle lineup ki oka pedda support lo stand out aiyyadu, Rajat Patidar. Eliminator match century score chesi…. century chesina first uncapped player gaa record set chesadu.
A partnership to remember: Shivam Dube & Robin Uthappa
CSK vs RCB match lo 165 run stand partnership tho, Shivam Dube and Robin Uthappa IPL history loone highest ever third-wicket partnership hold chesaru.
David Warner: 2 big-time records
IPL 2022 lo five half-centuries kotti, T20 cricket loone most half-centuries score chesina cricketer gaa record set chesadu, mana Warner.
And to add on to that, IPL lo more than 50 half-centuries score chesadu first player gaa kuda record set chesadu. Right now, he scored 54 half-centuries in IPL.
Most Valuable Player of IPL 2022: Jos Buttler
This was a Jos Buttler season. Okati rendu kaadhu, ee season lo Jos Buttler chala records ni break chesadu. Orange cap tho paatu, Most Valuable Player of the Season award, Most sixes in the season award (45 sixes), Game Changer of the Season award, Most Fours in the Season Award (83 fours), and Powerplayer of the Season award…total ga six awards tiskoni richest player gaa stand out aiyyadu.
Awards tho paatu ochina rewards inka set chesina records kuda chaalane unnayi.
273 runs tho, most runs in playoffs gaa record set chesadu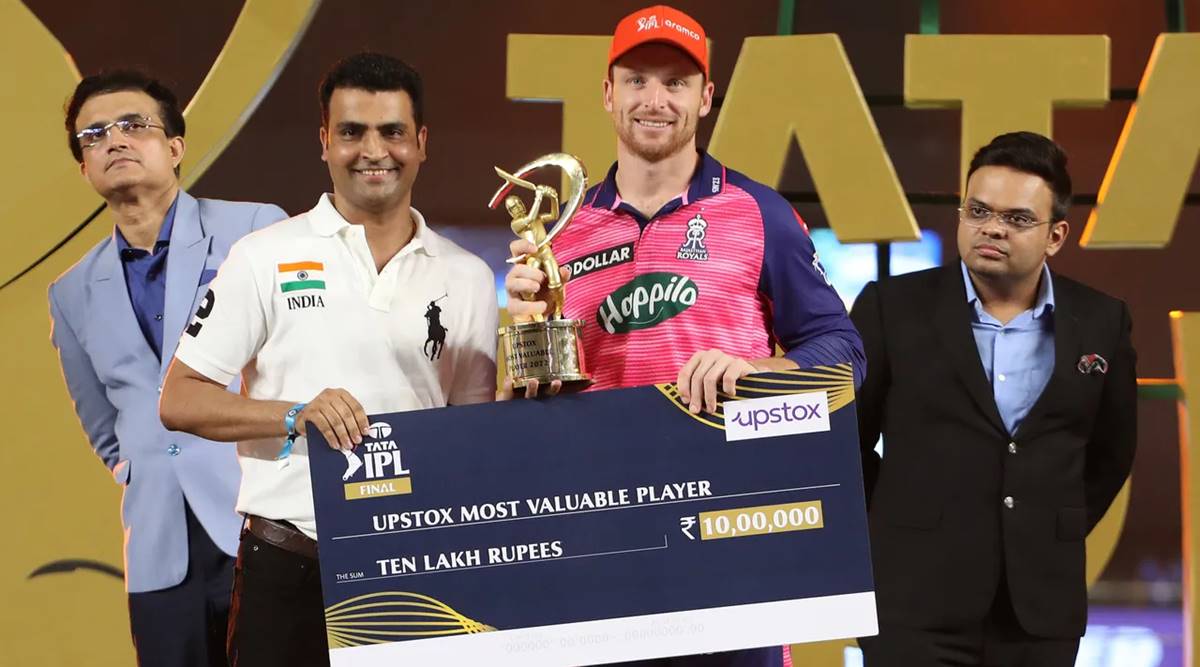 863 runs tho, most runs in this IPL season and second-most runs in the whole IPL history gaa inko record set chesadu.
4 centuries tho, the most number of centuries in a single IPL season gaa third record set chesadu
If you wish to contribute, mail us at admin@chaibisket.com
comments
Tags:
ipl
,
IPL 2022