A Mind Blowing Story Of How A Man, Dusharla Satyanarayana, Created A Forest From His Own Land
Prakruthi ante mana andariki istame kaani ayanaki vipareethamaina prema. Mana andariki telisindhe adavulu sahajamga erpadathayi, vaatini manushulu srushtincha leru. Kaani adhi tiraga raasina athani gurinchi cheppabothuna. Ayane "Dusharla Satyanarayana". Oka 10 ekaralu untene em panta veyyali, ela ammi building lu konali ane alochinche ee rojullo sontha bhoomi ni adavi ga marcharu.
Nijamga adavini srushtinchada? Adhi kuda oke oka vyakthi? Telusukundham randi..
Dusharla Satyanarayana Raghavapuram village, Mothe Mandalam, Suryapeta district lo untunaru. Tana sontha boomi ayina 70 acres tho ee adavini modhalu pettaru. Hyderabad lo ni Jayashanker Agricultural University lo B.Sc (Agriculture) chadivaru. 1977 lo Andhra Bank lo Agricultural Assistant ga work chesaru. Tarvata Union Bank Of India lo Rural Development Officer ga work chesaru. Prakruthi paina prema tho, edhaina cheyyali ane korika tho tana job quit chesi activist life start chesaru.
Chinnapati nunde farmhouse lo mokkalu natadam, inti chuttu mokkalani penchadam alavatu. Tana 5,6 years apudu tini dachina Seethapahalam ginjalu, seema chinthakaya ginjalu avanni ipudu pedha chetlu ayyayi. Ive kaadhu desalu tirigi mari ekkada dorakani vithanalu tesukochi adavi lo challaru. Raka Rakala mokkalu pencharu.
Neeru ela?
Mokkalu, chetlu unnai sare mari vaatiki neeru ela anukuntunnara? Adhi kuda ascharya parichela chesaru. Neeti kosam okkare chala months kashtapadi kaaluva tavvaru.
Janthuvulu, Pakshulu:
Nijame andoi ikkada animals, birds ye owners. Modhatlo konni nemallani, kundhellani tesokochi pencharu. Tarvata kothulu, adavi pandhulu, paamulu ila enno animals ee forest lo untunayi. Inka chala birds.. Kongalu, Gijigaalu, neeti kodlu, guvva, gorinkalu untayi. Vaatiki kavalalsina dhumpalu, kaayalu, sajja, jonna kuda vesaru.
Konadaniki veelu ledhu:
Ee forest lo chala arudhaina chetlu unnayi. Beedi chetlani konthamandhi kontamu ani cheppina ivvaledhu. Tanaki taanu kuda ah forest lo unde pandlu kuda tinaru. Kevalam akada unde animals ki, birds ki matrame. Akhariki chetlu chanipoyina ammaru avi bhoomi lo kalisipovalsindhe.
"Ee jeevarasulu annitiki nenu jeetha gadini, avi naaku yajamanulu"– Dusharla Satyanarayana.
Ee forest lo neem trees, varities of mango trees, tamarind, guava, bamboo, jamun, palm ila konni vandhala chetlu unnai. Veetitho paatu koni medicinal plants kuda unai. Ive kaadhu forest lo akadaka konni places lo 7 ponds tavvincharu. Ee ponds lo lotus flowers, fishes, tortoises, native frogs ila chala species untunnayi.
Adavi nundi Adaviki:
Jayathi, Lohithakshan. Into the hills and forests of Andhra and Telangana ani bicycling chesthu, forests gurinchi telsukuntu, pramukha rachayithalu ayina veelu mana Duscharla gurinchi "70 ekarala adavi" ani tana book "Adavi nundi Adaviki" lo rasukuni publish chesaru.
Jala Sadhana Samithi:
krishna, Godavari neetilo Telangana ki mukhyam ga paatha Nalgonda, Mahabubnagar districts ki water kosam ee samstha start chesaru.
Oka 20 years back satyanarayana ante rendu states ki baga telusu. Appatlo Nalgonda district lo fluoride paina udyamalu chesaru. Fluoride issue ni Nalgonda district nundi Delhi varaku tesukelli poratam chesaru. Ila inkenno sevalu chesaru.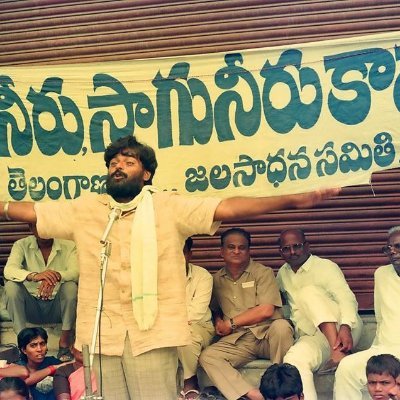 Neeti samasya kosam family ni kuda dhuram chesukunaru. Ayana classmates ye ippatiki help chestu untaru. Ayana ippatiki cheppedhi okate.. Naate oka chettu ni ayina manchiga chusukovali. Pedha pedha vrukshalu avvali. Manakante pakshulaki, janthuvulaki asara ga undali ani. Hatts off to Satyanaraya Gaaru. Take a bow for inspiring us.
If you wish to contribute, mail us at admin@chaibisket.com
comments
Tags:
dusharla satyanarayana
,
dusharla satyanarayana forest
,
dusharla satyanarayana from srikakulam
,
forest man
,
Jala sadhana samithi
,
man made forest
,
own forest
,
satyanarayana own forest