Meet Dr. Padma Shri Padmaja Reddy, A Kuchipudi Dancer Who Brought Heritage Of Kakatiya Dynasty Alive On Stage
When we follow our heart and do something with great passion, its great outcomes follow. Such is the story of Dr. Padmaja Reddy, a renowned Kuchipudi dancer from our Telangana. Ninna Government of India release chesina Padma Awardees list lo, mana Telugu states nunchi 7 members ee noble honor ki select aiyyaru. And Dr. Padmaja gaaru is one amongst them Shri for her great contribution in the field of art.
Padmaja gaaru is known for bringing the rich heritage and glory of the Kakatiya dynasty alive on stage. The 51-year-old dancer from Hyderabad has been performing for the last 40 years and has done over 3000 shows in 100 countries. And her journey from a kid who loved dancing to a Padma Shri awardee is truly amazing and worth everyone knowing. Take a read!
Padmaja gaaru 5-year-old unnappati nunche dance cheyyadam start chesaru. Tanu oka reddy business family background nunchi raavadam tho, asalu arts ki inka tana life ki ey connection inka association ledhu. But like they say, destiny finds its way towards what gives us extreme joy.
Padmaja gaaru chinnapudu Kuchipudi village nunchi 15 kilometres dooram lo unna Pamarru ane village lo undevaaru. Tana school days lo morning 7 ki lechi, 3 buses change aiyyi, akkada nunchi inko 3 kilometres nadichi school reach aiyye vaaru. School aipogaane dance classes attend aiyyi raatri 8 ki intiki oche vaaru. Tana day motham chala busy ga inka tiring ga unna, dance nerchukovadam maatram eppudu aapaledhu.
Her love for Kakatiyam dance!
Telangana formation period lo unnapudu, chala arts forms ni chusi… mana Telangana lo kuda oka classical dance form undaali ane thought tana mind looki ochindi. Kuchipudi mana telugu dance form aina, daniki ivvalsina importance, and awareness mana telugu states lo ledhu ani observe chesaru.
She also drew inspiration from the book Nritta Ratnavali, which explains the classical and folk-dance forms. With that she started researching and studying about our very old Kakatiya dynasty and developed Kakatiyam. She spent the last seven years working on Kakatiyam. Most times Warangal fort lo unna Ramappa temple lo inka dani chuttu unna libraries lo Kakatiya era gurinchi research chesthu gadipevaaru.
After facing a lot of difficulties and questions around the development of the Kakatiya dance form, she was determined to take this dance form to every one in Telangana. Kakatiya era lo unna dance forms ni highlight chesthu, inka modern concepts ni kuda add chesi, oka dance drama ni direct chesi 2017 lo part 1 ni showcase chesaru.
And in 2017 she directed and performed part 1 of Kakatiyam. And in 2021, the 2nd part of it was performed. She has received a lot of appreciation and applause for the beautiful Kuchipudi performance along with almost 100 other dancers. Many ministers of Telangana were also present for her performances.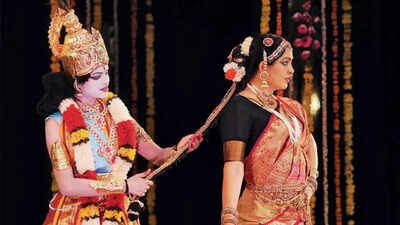 She has received a lot of awards and rewards in her 40 years of dance journey. And one of her biggest awards was the Sangeeta Nataka Akademi Award, the highest award given by the Indian government to practicing artists. It was presented to her by President Pranab Mukherjee in and she was the first person from Telangana to ever receive this honor.
In an interview, she mentioned how money was not everything to her. Her passion and love for her dance are what brought her to this stage in life. Even now, she practices for 8 hours every day. She truly is an inspiration to many people who love art and would want to make a career in it. Here's congratulating her for her great success.
If you wish to contribute, mail us at admin@chaibisket.com
Up next on Chai Bisket
2022 Padma Awardees From Telugu States You Should Know About
comments
Tags:
kakatiya dance
,
kuchipudi
,
Kuchipudi dancer
,
padma awardees
,
padma shri
,
padma shri awardee
,
telangana
,
Telangana padma awards 2021