Meet Bhavina Patel, Our India's Paralympic Hero Who Got Us Our First Medal Last Year & A Gold This Year At CWG
Remember Bhavina Patel? Adhe andi, Exactly one year ago jarigina Tokyo Paralympics lo first ever Indian to win a medal andi. Appudu Silver tho oka strong statement ichi, Ee year CWG lo Gold tho aame consistency ento prove cheskunnaru.
Bhavina's CWG 2022 Game:
She dominated her opponent player, by a total of 3-0 (12-10, 11-2, 11-9) and defeated Nigeria's Ifechukwude Christiana to win a gold.
Her Tokyo Paralympics 2021 game:
Woahhh!! History created on National Sports Day. Bhavina Patel is the first Indian to win a Paralympic women's singles class 4 Table Tennis medal in the Tokyo Olympics and becomes Second Indian to ever win a Paralympics medal after Deepa Malik. Nothing but huge respect. Semi-finals enter ayina deggara nundi andaram full confidence tho unnam. We know that, kachithamga medal aythe vasthundi ani. And now it's silver for India. 
Bhavina Patel, 34-year-old champ belongs to Sundhiya village, Gujarat. Vaalla father Hamsukhbhai Patel, ah village lo ne oka small-time shopkeeper ga work chesevallu. Tanu 12 months unapude polio tho badhapaduthu crutches tho ne nadavadam start chesindi. Schooling Gujarat lo complete avvagane ITI computer science kosam Ahmedabad vellindi. Akkada, she got inspired by visually impaired children who were playing table tennis. Ala tana 13 years appati nundi table tennis medha interest start ayindhi.
But chasing her newfound passion was not at all easy for her. Tanu training place reach avadaniki two buses change ayyi, akkadi nundi auto-rickshaw lo velledhi. Just imagine the situation of her using crutches in that hectic traffic. Once in a while, she had Nikul Patel's help and company who was a reliable friend then and a supportive husband now.
She got a Robo from Target Olympic Podium Scheme in 2020. She said "It helped me improve my game. It's a very advanced robot with advanced features. It throws the ball at you like a simulation…otherwise Lallan sir was there most of the time to train me."
Olympic journey:
Friday jarigina quarter-finals lo, world No.5 Borislava Peric Rankovic (Serbian opponent) tho compete ayyi.. 11-5 11-6 11-7 score tho semi-finals reach ayindhi. And saturday jarigina semi-finals lo Zhang Miao (China opponent) tho compete ayyi.. 7-11, 11-7, 11-4, 9-11, 11-8 she reached finals. And ivala jarigina finals lo she competed with Ying Zhou of China who is a 2-time Paralympics gold medalist. Bhavina just missed the gold medal with a scoreline of 7-11, 5-11, 6-11.
Other awards:
2011: Won Silver in PTT Thailand Table Tennis Championship
2013: Won Silver at Asian Para TT Championship in Beijing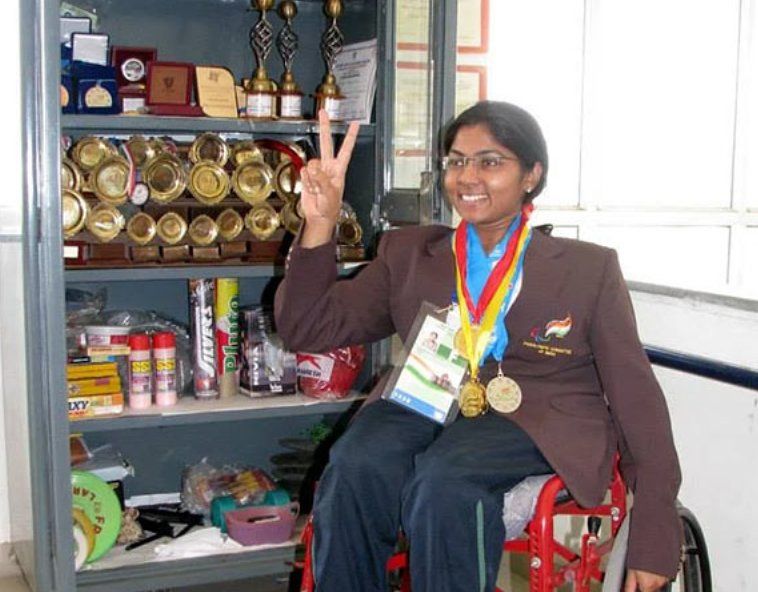 "She may be 'Divyang' but to us, she never appeared to be so. For us, she is 'Divya' (divine)" the tabble tennis star's father Hasmukh Patel said.
She said- "I dedicate this silver medal to my country. I want to thank my coach, family members, and friends for their constant support."
From setbacks to success, from breaking barriers to winning a medal, from Sundhiya village to Tokyo Olympics what an incredible journey. Hats off you super woman!
Congratulations Bhavina Patel!! Your silver & gold inspire an enite generation.
If you wish to contribute, mail us at admin@chaibisket.com
Up next on Chai Bisket
Meet Nishad Kumar, A 21-year-old Paralympic Champ Who Got Home Silver In Men's High Jump
comments
Tags:
bhavina patel
,
bhavina patel paralympics
,
bhavina patel table tennis
,
paralympic sports
,
paralympic table tennis
,
paralympics
,
silver medal at paralympics
,
tokyo 2020 paralympics
,
tokyo paralympics