Meet Arundhati Reddy From Hyderabad Who Made Her Place As A Bowler In The Indian Cricket Team & Women's IPL
While Men's Cricket Team and IPL have the most hike, the women's cricket team is no less in anything. We've seen some stellar and record-breaking performances from our ladies on the field. And when one is them is our own state, it's another feeling alltogether. Adedo telini country lo sudden ga oka Telugu voice vinisthe ela untundho, alane untundhi ee feeling.
Arundhati Reddy, the 24-year-old Telangana pacer was born and brought up in a middle-class family in Hyderabad. She lives with her mom Bhagya Reddy and her brother, Rohit Reddy. Her mom was a school teacher and she was a top student in school and played Gully cricket with her brother just to pass time. But who knew, it would turn into her passion.
Pillalu sports looki valla nanna dream ni fulfil cheyyadaniki velladam, chala saarlu vinnamu. Kaani Arundhati valla amma dream ni fulfill chestundhi. Amma, Bhagya Reddy tana college days lo university level lo volleyball aadedhi. But aa rojullo pedda families undadam tho, tana kavalsindhi cheyalekapoindhi.
But Bhagya Reddy gaaru tana 12-year-old daughter ki cricket lo unna interest chusi, full support chesindhi. Ala support chese time lo, neighbours inka relatives chala maatalu annaru, chala questions kuda raise chesaru. But avvanni Arundhati ki telekunda, tana mind lo chala suffer aiyyevaru.
Morning 4 ki lechi, Arundhati ni ground ki tiskellevaru. Intiki vachaka vanta chesi, Arundhati school lo drop chesi, tana job ki vellevaru. Evening malli practice ki tiskonivelli, aipoyedaaka wait chesesaru. Equipment entha expensive aina, hesitate cheyyakunda happy ga konipincheyaru.
2017 lo Railways lo job ravadam, tana confidence ni chala boost chesindhi. Indian Railways coach, Nooshin Al Khadeer inka Head Coach Savita Nirala tana career ni shape cheyyadaniki chala help chesaru. Constant ga fit avthu, muscle build chesthu, fast bowling cheyyadaniki work chesthu undhi, Arundhati.
Railways lo join aiyyaka job stability unna, career instability undedhi. Consistent ga perform cheyyalekapovadam tho, mentally weak aipoindhi. But, tana mind ni petti, mentally strong aiyyaka oka breakthrough performance tho shine aindhi. Danitho, T20 Challengers Trophy lo, Jhulab Goswami tho same team lo perform chesindhi.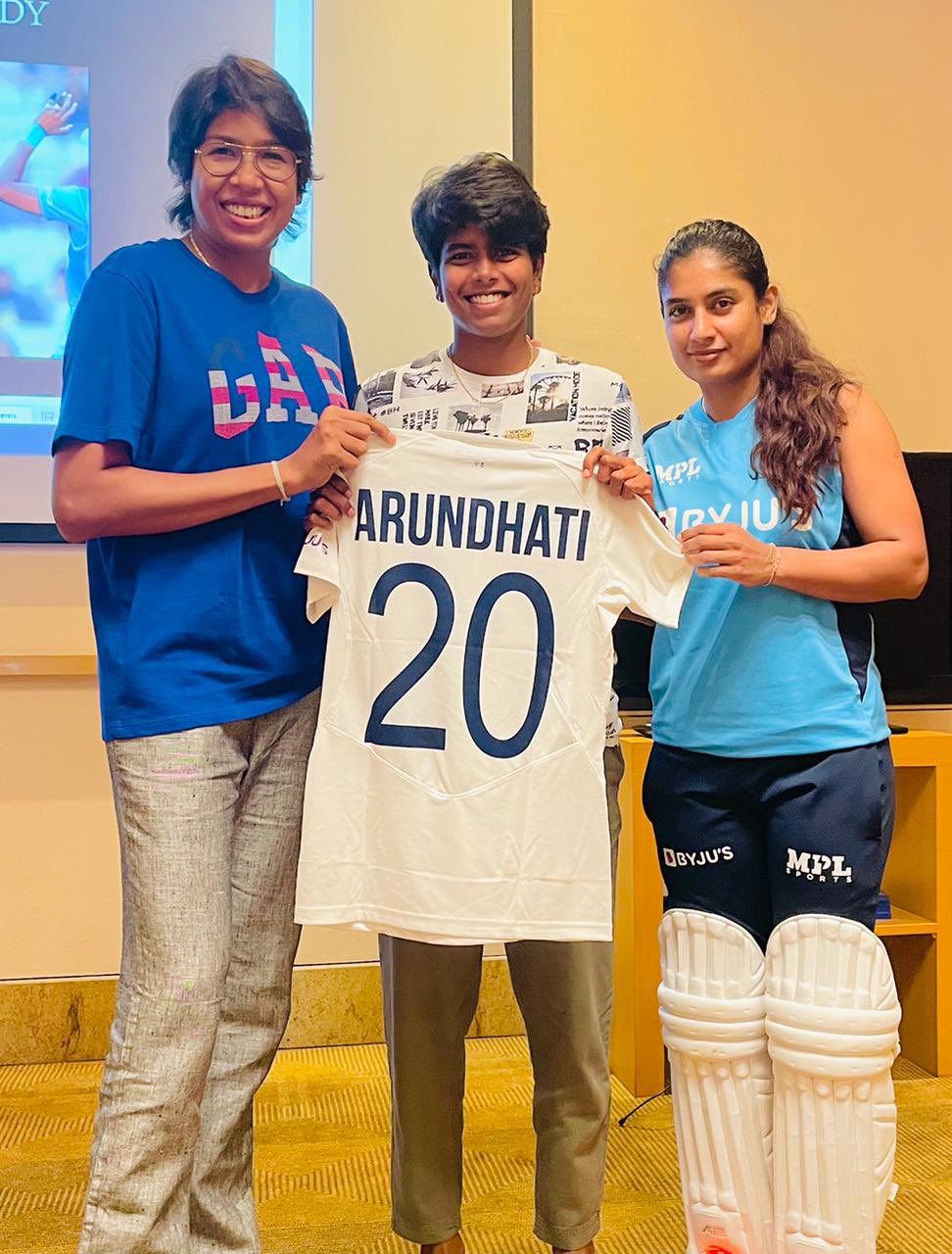 2018 lo jarigina India v/s Sri Lanka match lo tana international debut chesindhi. 19th Sept 2018 roju tana international debut chesindhi. Akkada stellar performances ichi, 2018 ICC Women's World Twenty20 squad lo select aindhi. Dani tarvata England ki against Test squad lo kuda select aindhi. Jhulan Goswami T20 retirement tho, Indian Team lo chala ippudu, Arundhati pedda shoes fill chestundhi.
When asked how she felt after being selected for the Indian Team she said, "Honestly, I didn't really expect the call. I was practising and that's when my friends called and told me the news. I just celebrated the occasion by having dinner with my family and friends, who were already there by the time I reached home."
Now, the Indian pacer is playing for Trailblazers in the Women's T20 Challenge under the captaincy of Smriti Mandhana and is giving her best. The whole of the Telugu States and the country is for sure very proud of her. Kill it, rockstar!
If you wish to contribute, mail us at admin@chaibisket.com
comments
Tags:
arundhati reddy
,
hyderabadi cricketer
,
indian cricket team
,
indian women's cricket team